to MAMA's Diner, the official home of the Maryland Automotive Modelers' Association (MAMA), where we serve entrees of fun, friendship, and model cars.
MAMA's current leadership team is:
President: Tim Powers
Vice-President: Dave Toups
Treasurer: Matt Guilfoyle
Newsletter Editor: Tim Sickle

Notes from the MAMA President:
It is with much sadness that I report the loss of fellow MAMA and CPMCC member Randy Kern. He was just 66 years old when he passed away unexpectedly on Tuesday, June 14, 2022. Everyone remembers him as always smiling, friendly, and enjoyable to talk to at model car meetings and shows. His visitation will be held Saturday, June 25th from 10-12:30 at Groffs Funeral and Cremation Services. 528 W. Orange Street, Lancaster, PA 17603. You can read his obituary at: https://lancasteronline.com/obituaries/randall-d-kern/article_5392e85d-f187-59b6-bc65-24e34c7ed151.html. MAMA sends our deepest condolences to Randy's family and everyone who knew him.
Well, Our 27th Mid-Atlantic NNL is now history and it was quite a success as we reported last month. This time around I want to extend a belated, but heartfelt thank-you to everyone who participated in various aspects of the show's planning, preparation, operation, and cleanup: Matt Guilfoyle, Dave Toups, Tim Sickle, Walt Rook, Ron Dreschler, Chuck Glass, Dave Murphy, Lyle Willits, Mike Costic, Jim Maness, Ron Hamilton, and Sean Kirby. We are also grateful to Mark Parhurst for a very special ccontirbution that he made to help ensure our show's success.
Since April, the COVID positivity rate for Maryland shot from 4.9% up to 8.9% and is now back down to 7.9% as I am writing this. Several Maryland counties have bounced through the CDC's "High", "Medium", and "Low" risk categories. Only about a month or so ago, the BA.2 Omicron sub-variant was spreading swiftly all across England and Germany as well as our own country. For now it looks like things are settlling down a little. But still, we need to remain cautious for ourselves, and our family, friends, co-workers, and acquaintances as another variant can pop up at any time. Please continue to follow changing county mandates and mitigations as they adapt to address the evolving COVID virus. As always I reccommend that you keep wearing your masks when in oublic spaces even if they are not required and continue to use hand sanitizers to help reduce the chances of spreading COVID and other diseases like colds and the flu.
June Photos:
Because our current meeting location at the Fire Museum of Maryland is both limited on space and out of the way for some members (What location isn't?) we are keeping the psuedo-virtual aspect of the web site going. Any one who wants to is encouraged and welcomed to send in photos of their builds, so if we can't see you and your model cars at meetings, we still want to see photos of your projects here on the site. Please keep those photos and descriptions coming. Remember to send them in by the third Saturday each month.
Paul Lee starts us off this time with a big AMT Ford LNT-8000 snow plow truck.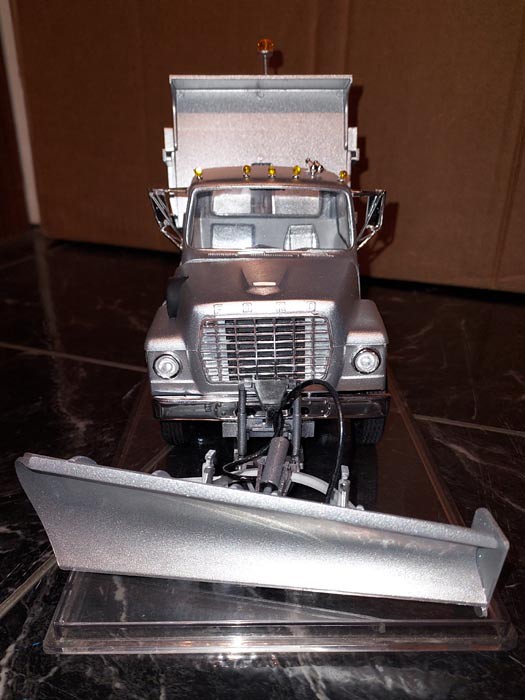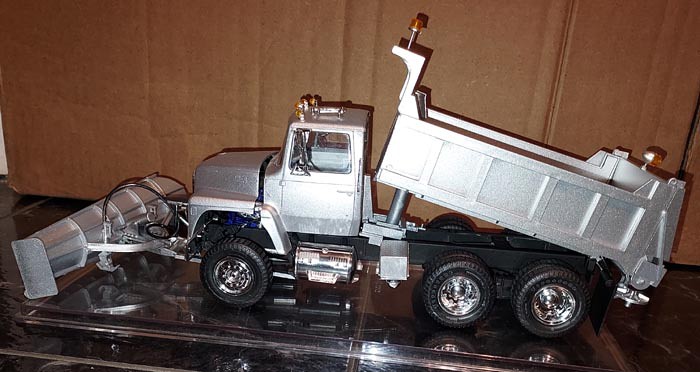 Steve Buter actually sent in three subjects back in May when he realized he'd be unable to attend the Mid-Atlantic NNL show. First is a vignette that combines 1/32 scale vehicles with 1/35th scale figures. The Vette is Revell's "The Nightflyer" snap-tite offering from 2005. The Triumph Herald is from Airfix, first issued 1967, this is a re-issue from 2011. It's a bit dear to Steve's heart: he finished it to resemble the very first car he ever drove back in the summer of 1966 on a certain friend's dare. Problem? He didn't have a driver's license yet, but he drove it anyway for a bit. The hedge is a hunk of styrofoam painted green.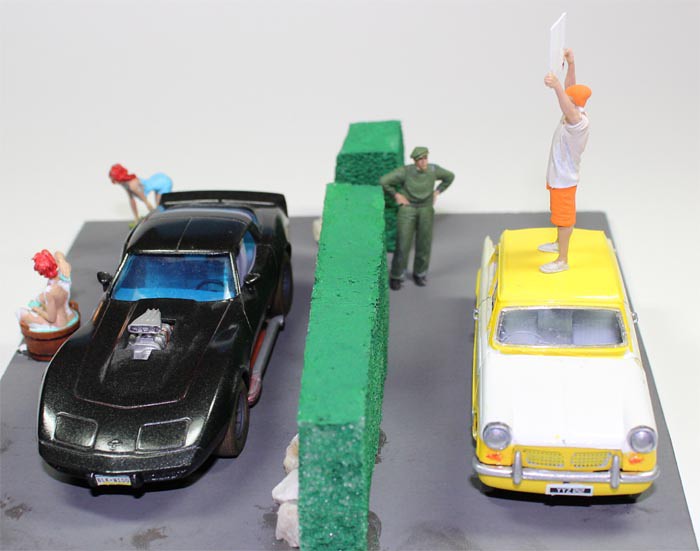 Steve's second subject is a model that he would have brought to the Mid-Atlantic NNL, had he been able to make it there. It's a 1970 Maverick that he crafted from a JoHan race car. He scratch built much of the interior and undercarriage to help replicate his beloved daily driver from 1973-77. Steve thanks Replicas & Miniatures for much of the car. He says Norm's one-piece steel wheels with dog-dish hubcaps are a dead ringer for the wheels present on the real car when he drove it off a used car lot in 1973. And yes, it had a vinyl top! Also from Norm's stuff is the Ford 195 cid straight six: Steve's Maverick actually had the 170, which he says helped make that friggin' oil embargo and the "even-odd" days for gas pump visits easier to stomach. In the interior, Steve included the 8-track player and Spark-O-Matic twin speakers from K-Mart, bi-fold bench seat with plaid cloth upholstery, and three-on-the-column shifter.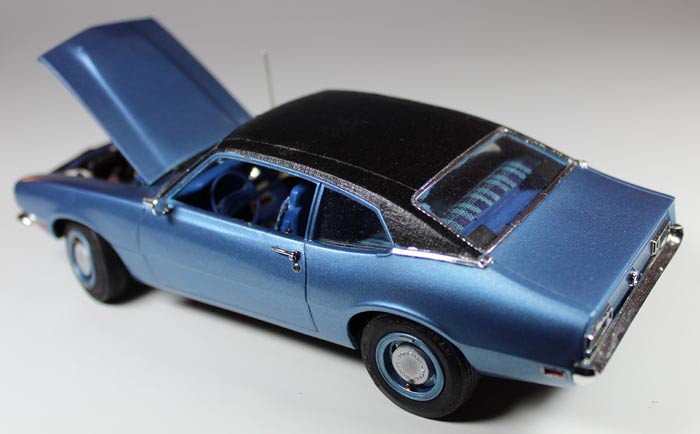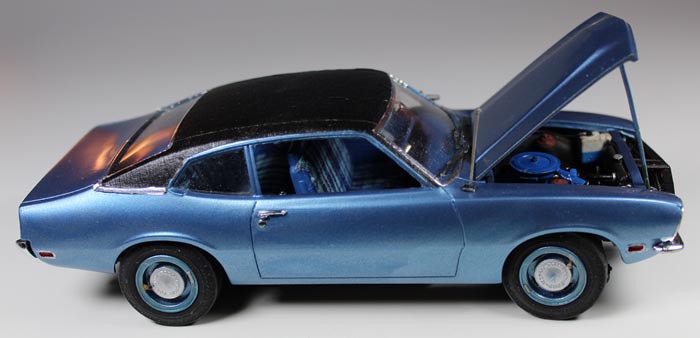 Steve's third subject is is Monogram's 1955 Chevrolet convertible. This was some of his first experience with scale figures. "Jayne Mansfield" was crafted from a Hasegawa "Racing Campaign Girl Set" (there were six of 'em). He changed the position of one figure's arms and provided.....enhancements....via two-part putty. The tight-fitting dress was strips of Bounty paper towels dipped in a water-thin white glue solution. then wrapped, nipped 'n tucked around the figure, left to dry for a while, then painted hot pink like the car. Jayne liked pink stuff, or so Steve has heard.The "Dobie Gillis" figure at the wheel began life as the driver figure from MPC's "Gangbusters" '28 Lincoln Continental. The scale stuffed animals and bongo drums are some of Norm's resin stuff.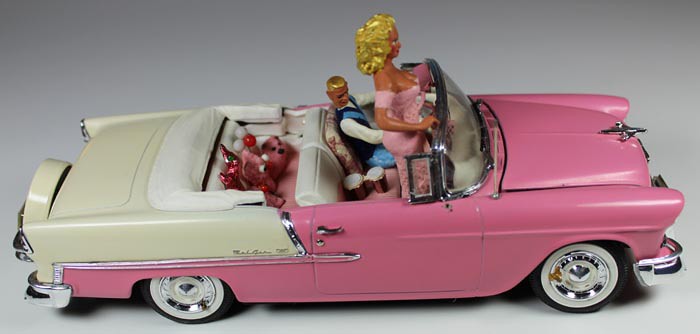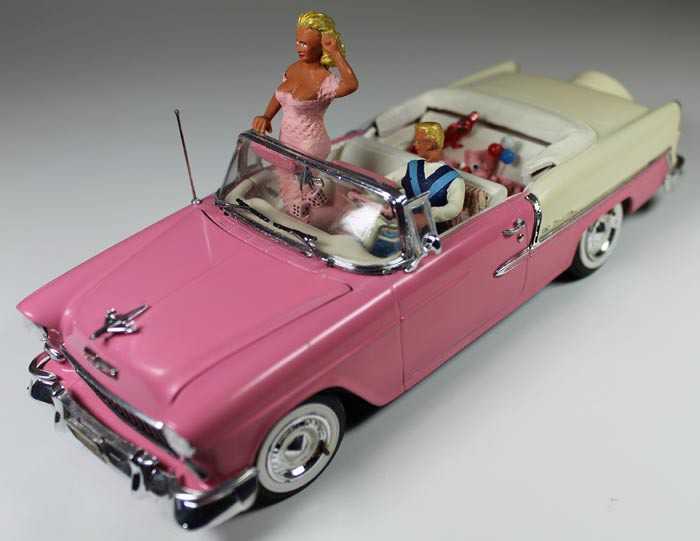 Rex Turner sent us a sampling of models that he's finished and is working on down in sunny Miami Florida. He's been down there about nine months and is getting used to the year-round car show friendly weather. He says, "Of course A/C and tinted windows help in the summer but we actually look forward to "winter" down here." Rex also said he's so glad to see that we had a great NNL show and hopes that we'll be able attend the NNL East and Philly NNL next year as it will have been a four year gap. Rex tells us that there are good model shows down there and the largest one is held twice a year in Largo. Rex said that Jerry Frazier is always at the Largo show selling parts and kits. Rex also said that the most recent Largo show turnout was a little lower than usual, but of course there were some good deals to be had in the swap meet. Anyway, Rex misses the gang and hopes to get up this way again.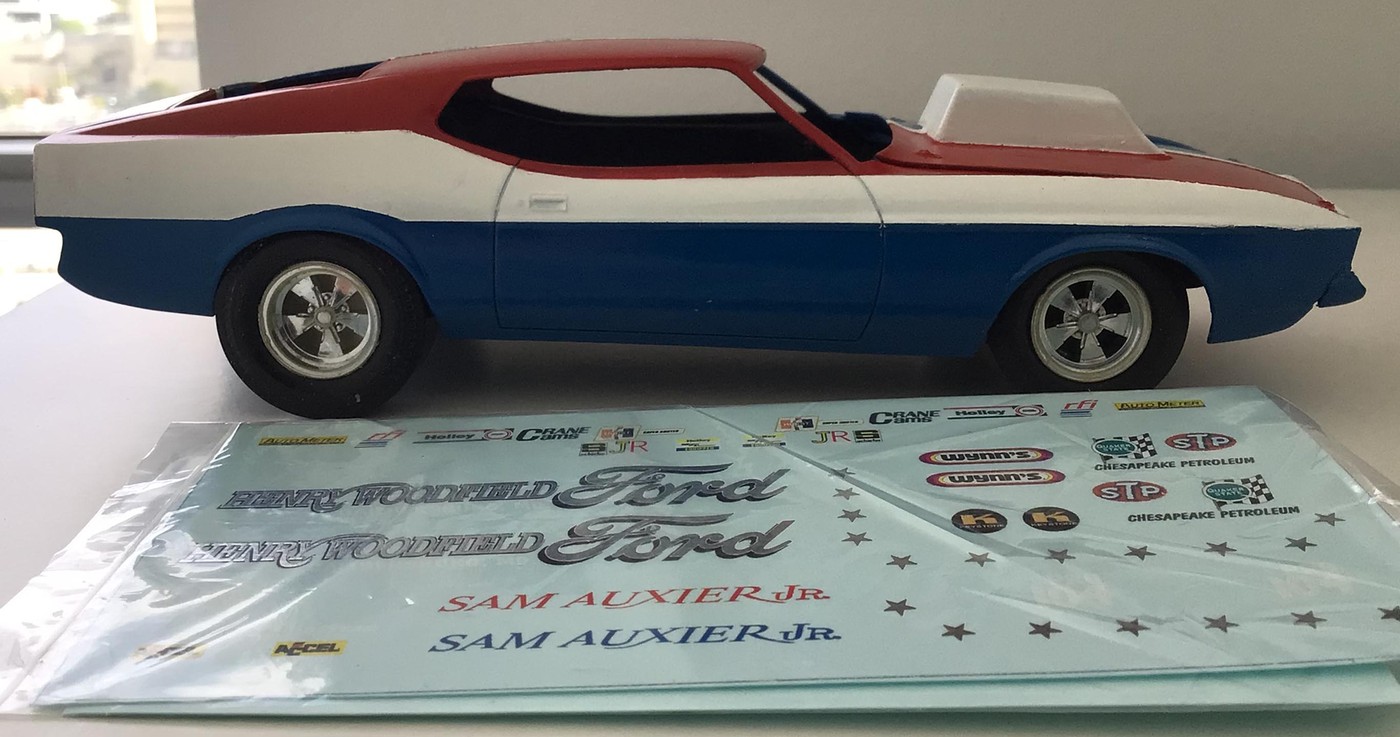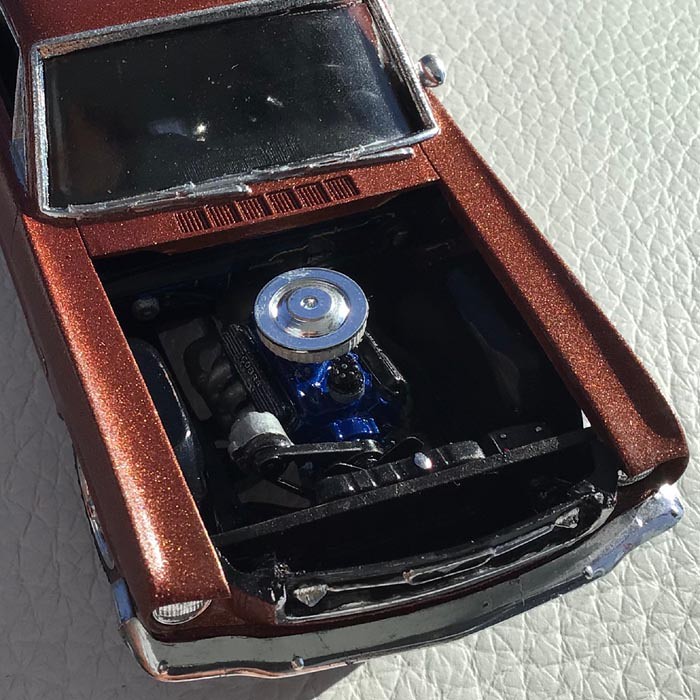 Scenes from the meeting:
Steve Buter Displayed the vignette he shared above and a newly completed 1/32 scale 1932 Ford.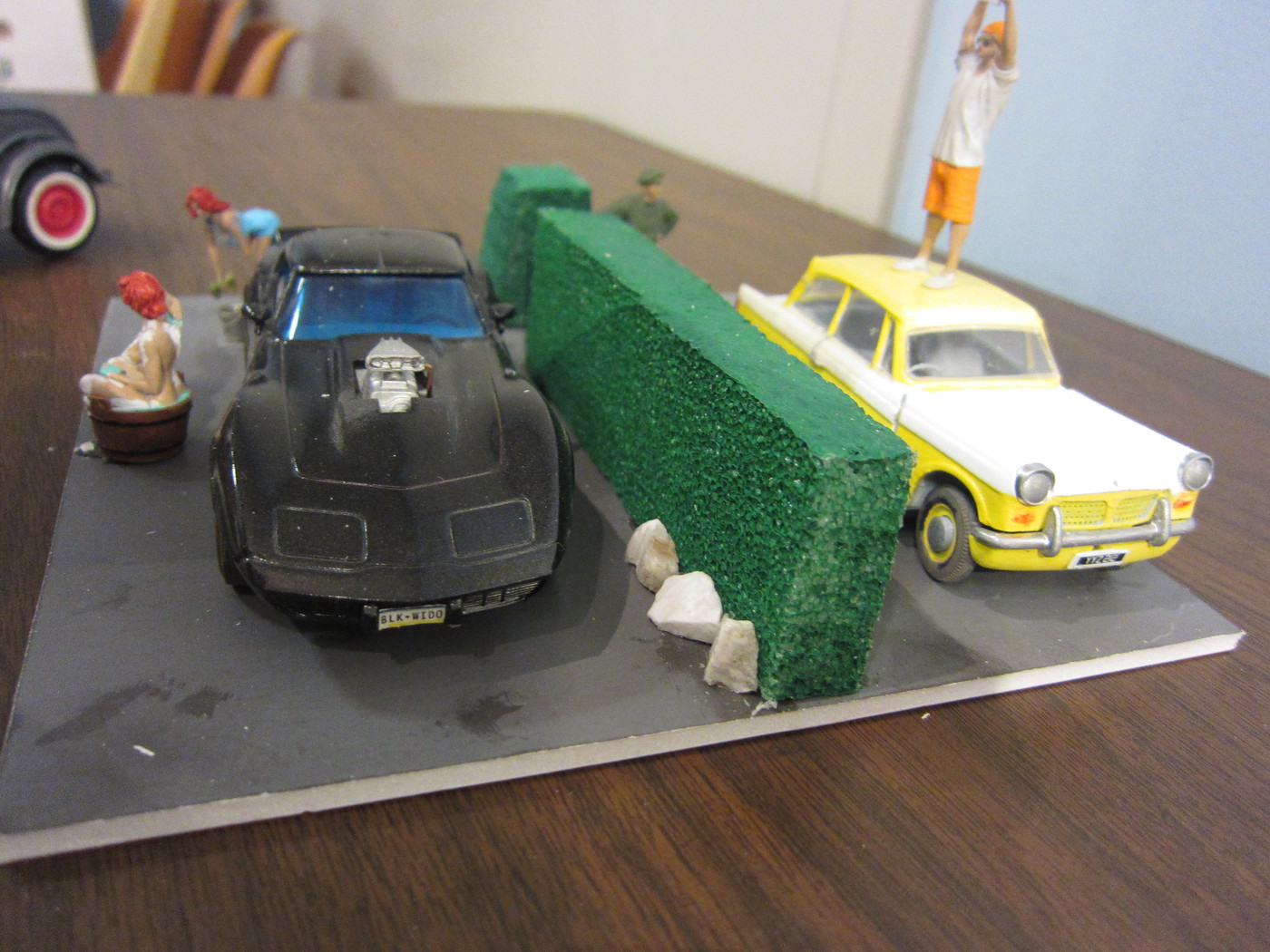 Ron Hamilton showed the beginnings of his latest project.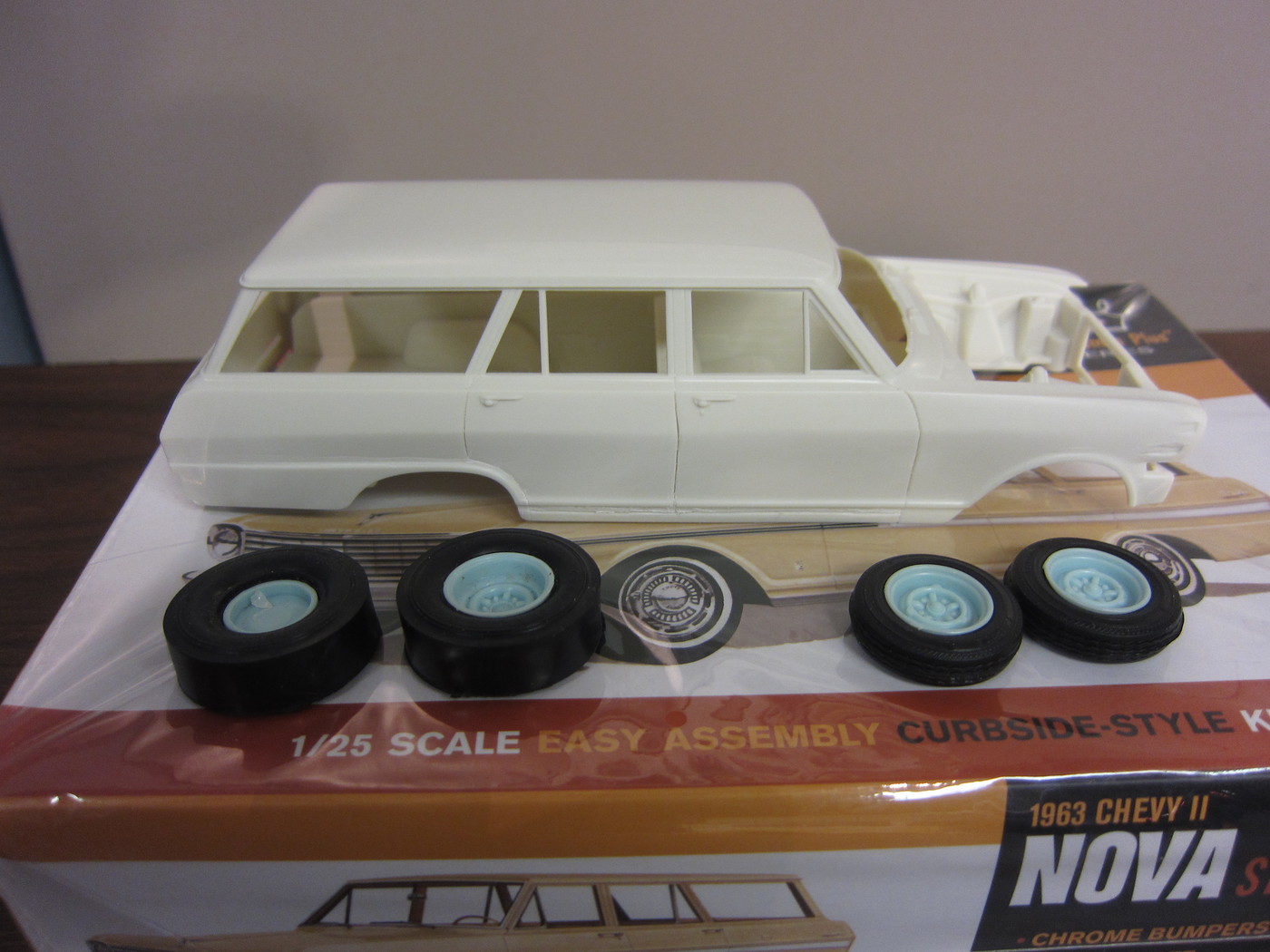 Marcos Cruz exhibited this hot Datsun and Mazda combination.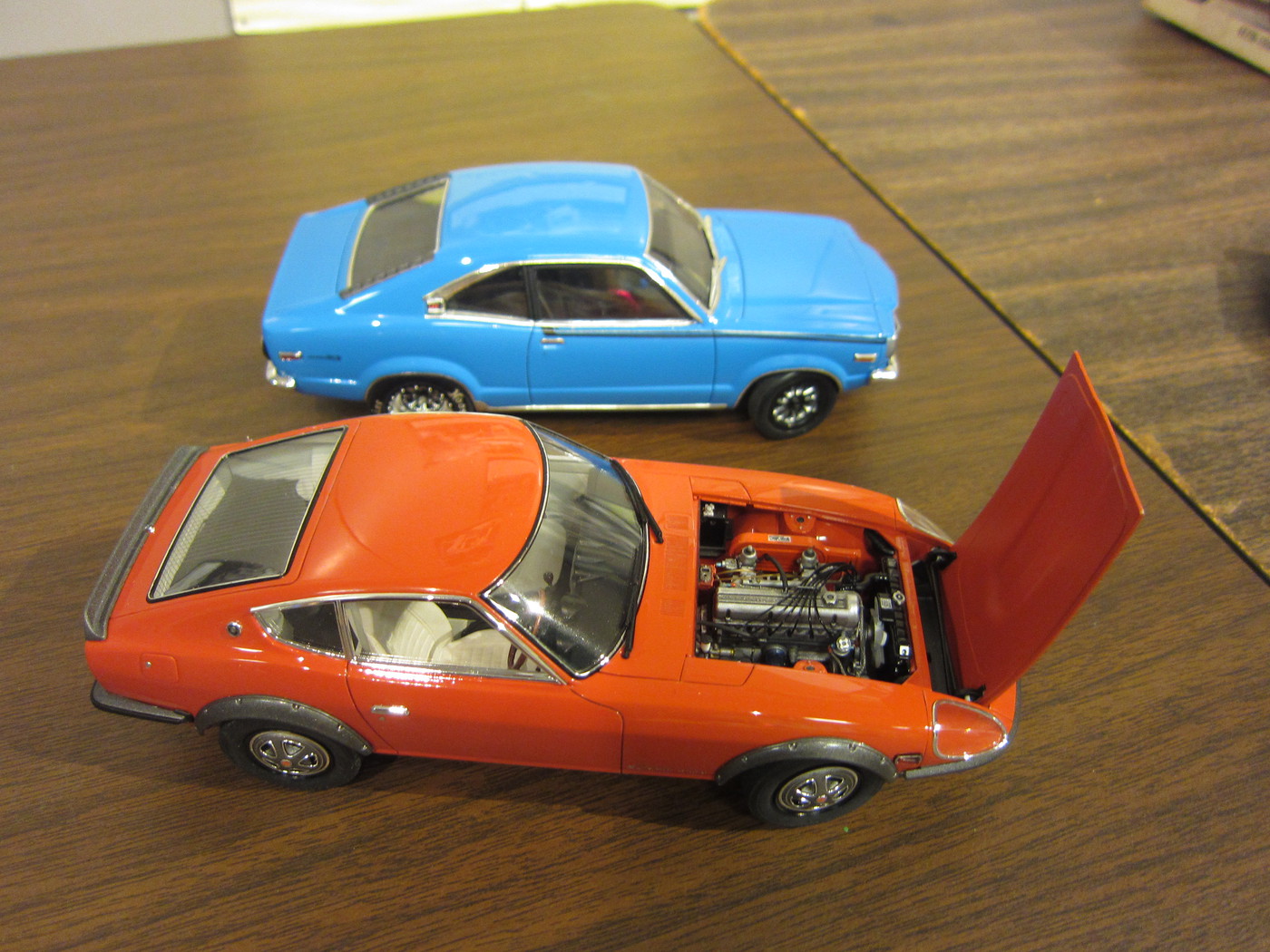 Jim Maness brought out this Tony Stewart Pontiac Grand Prix.

This eye-catching Camaro was built by Kenny Kovach you might know him better as Kevin's dad.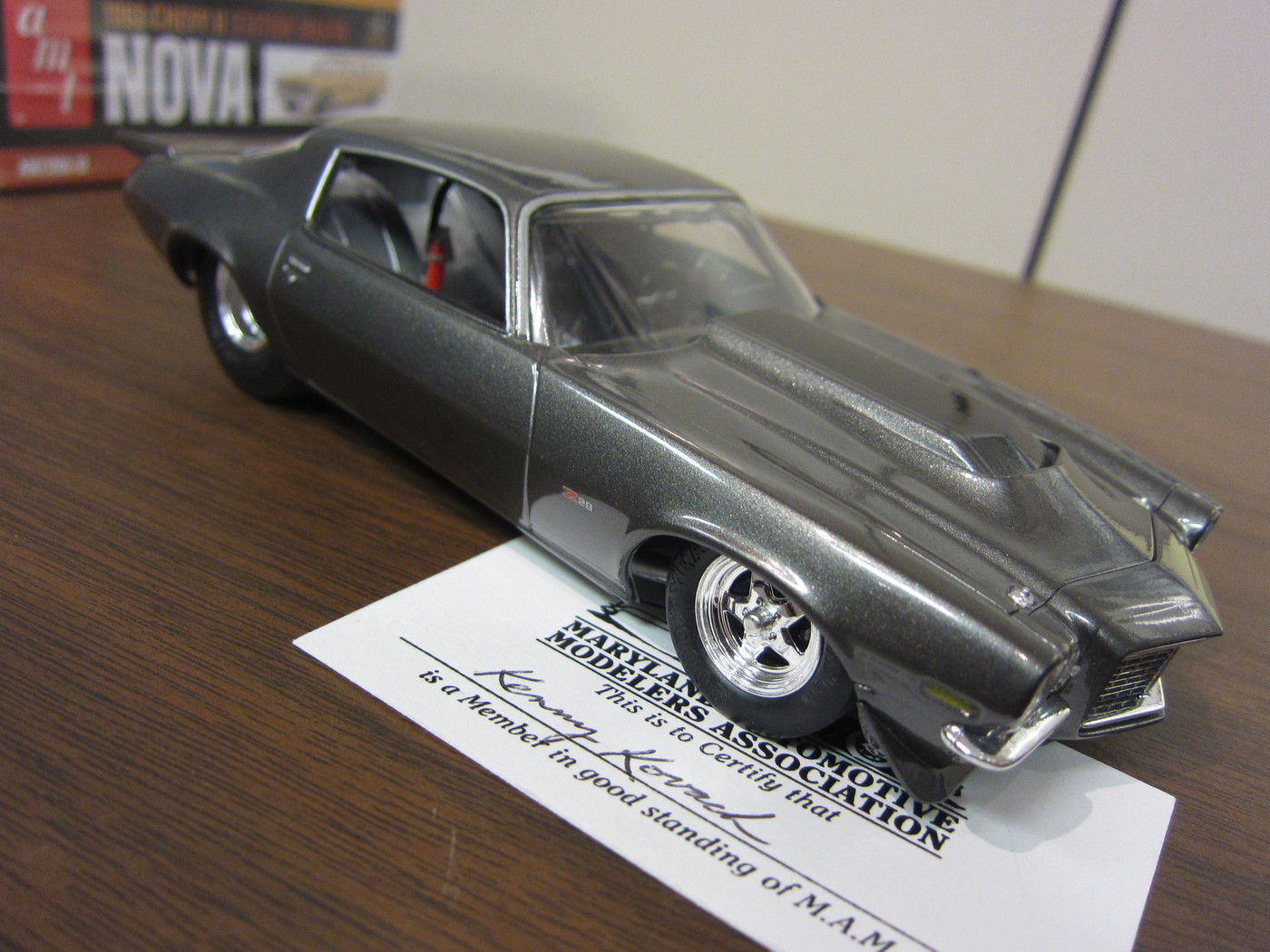 Chris Whalley displayed these three Pontiac "Fast Pack" finds. Of note, the two red GTOs were sold as 1970 and 1971 model years, and even had those two dates on the license plates, even though both kits featured the same 1970 body, hood, and interior.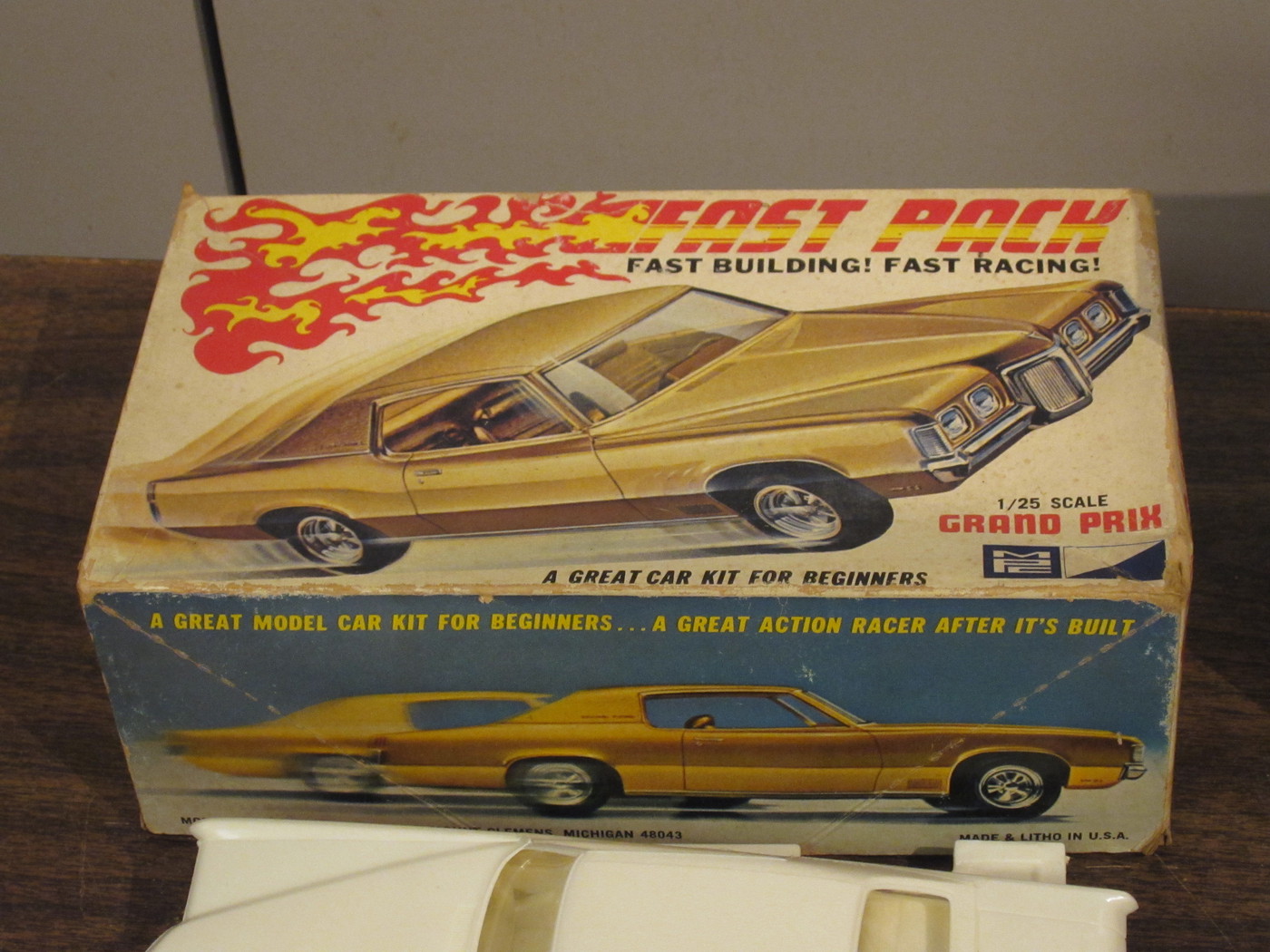 Unfortunately, I did not see who displayed this blue-hued and Cragar shod 1933 Ford 3-Window Coupe.

Norm Veber displayed his latest sci-fi acquisition.

Nick Sickle showed these 1/64 scale diecast Kaido House Mini GT Datsun 510 wagons. Have you ever seen this much detail in a Hot Wheels-sized car before?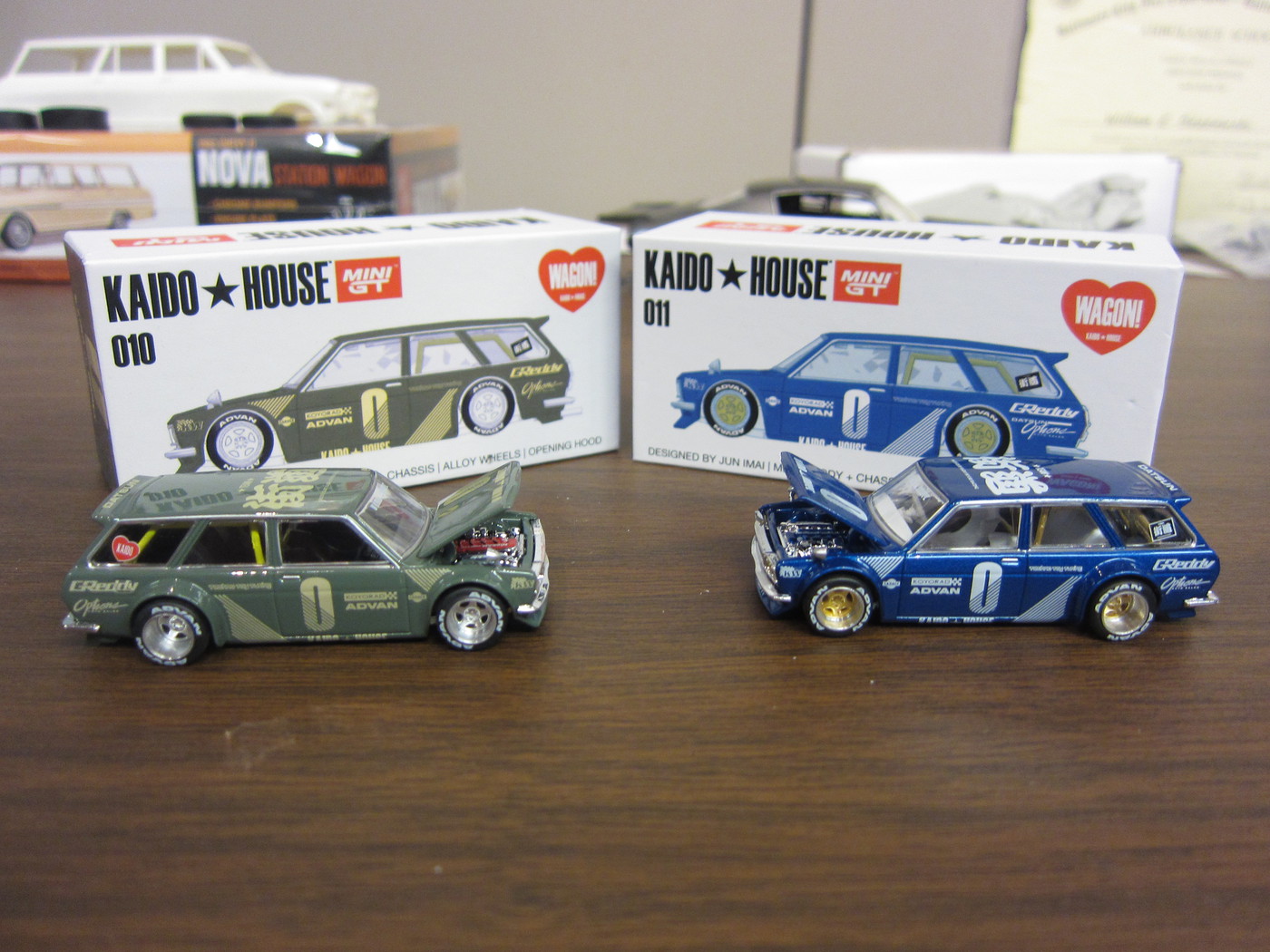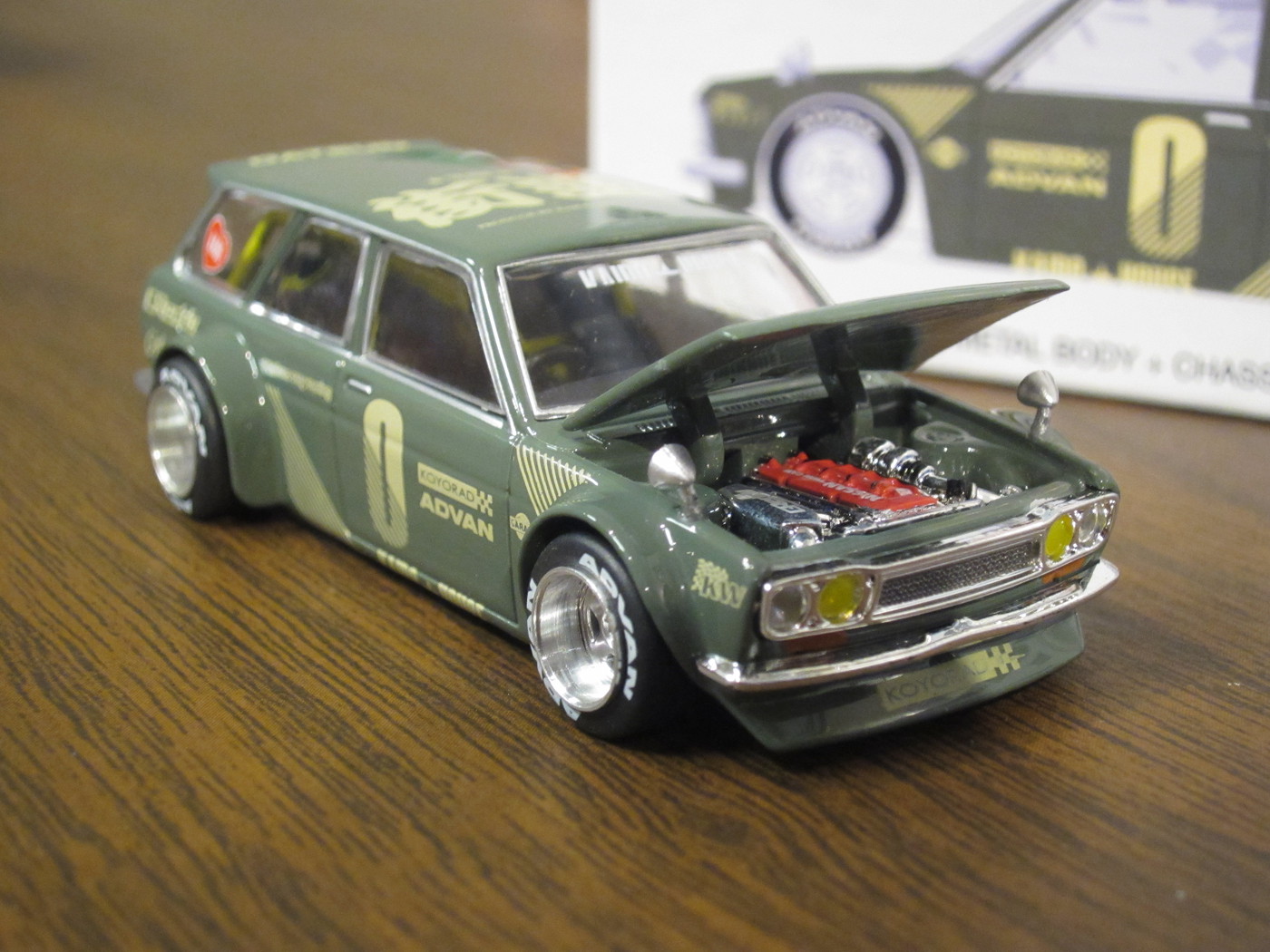 Rick Donovan Brought out these Willys and Mustang Gassers.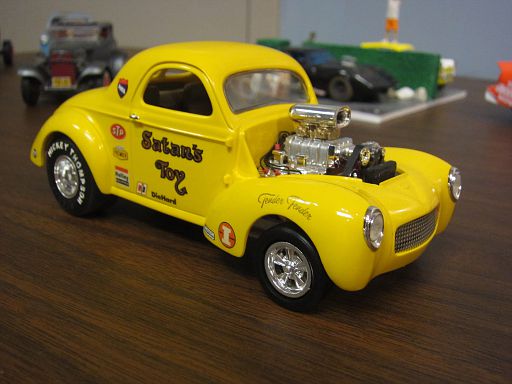 Our newest member, Dean Lewis, displayed a pair of finished models that you might have seen at the Mid-Altlantic NNL last month and three works in-progress (that third one is a Unimog Fire Truck Chassis.)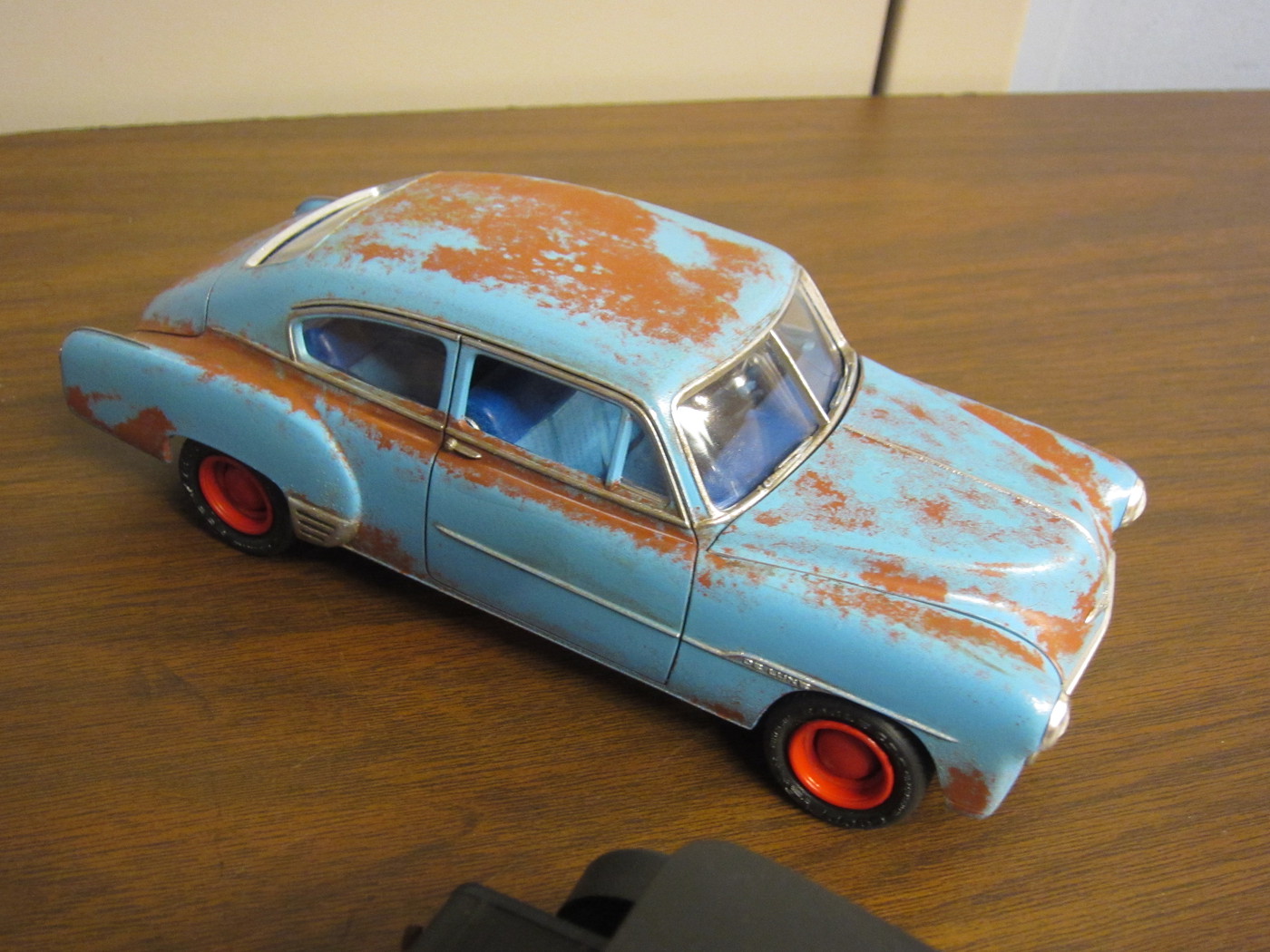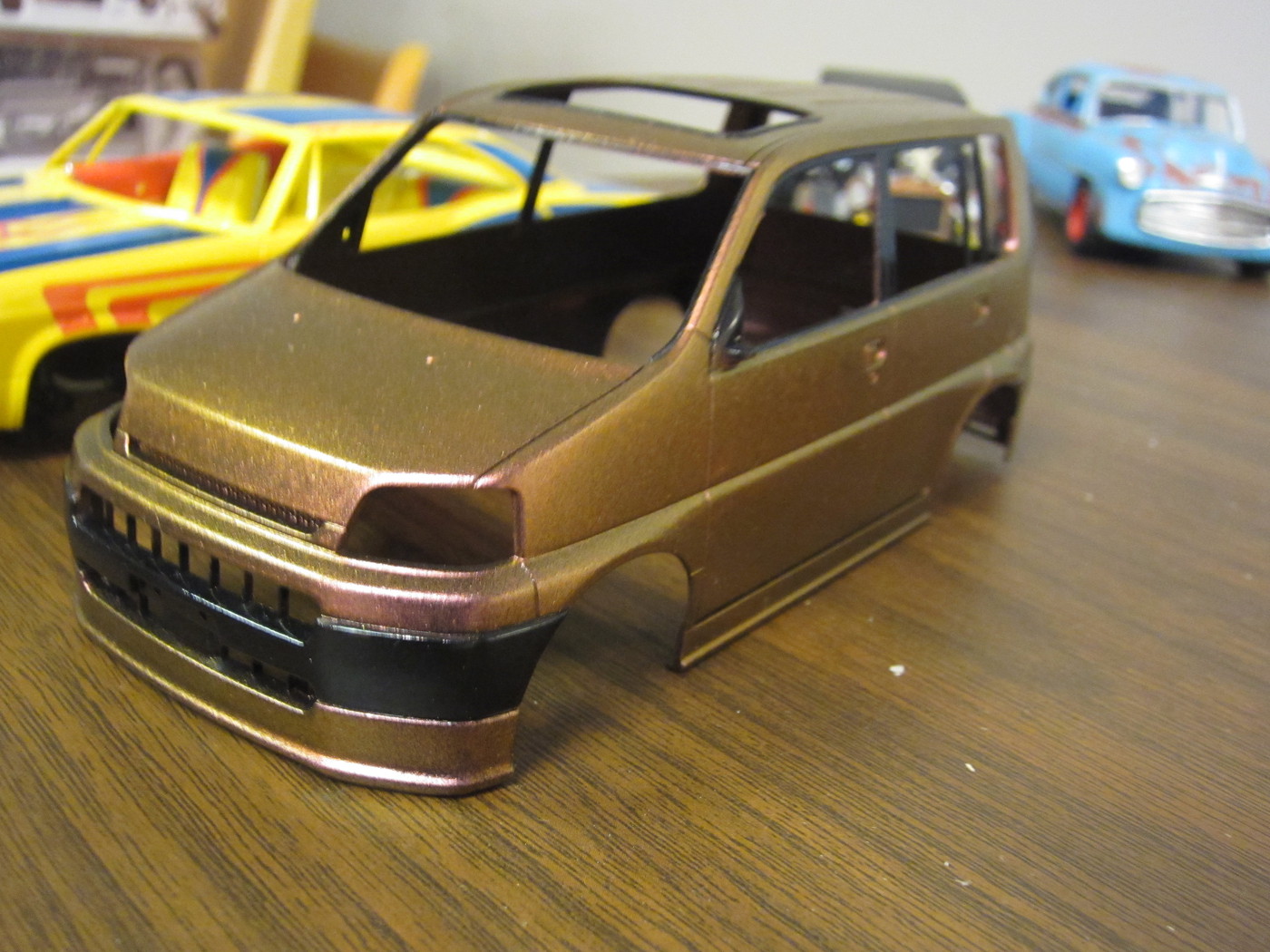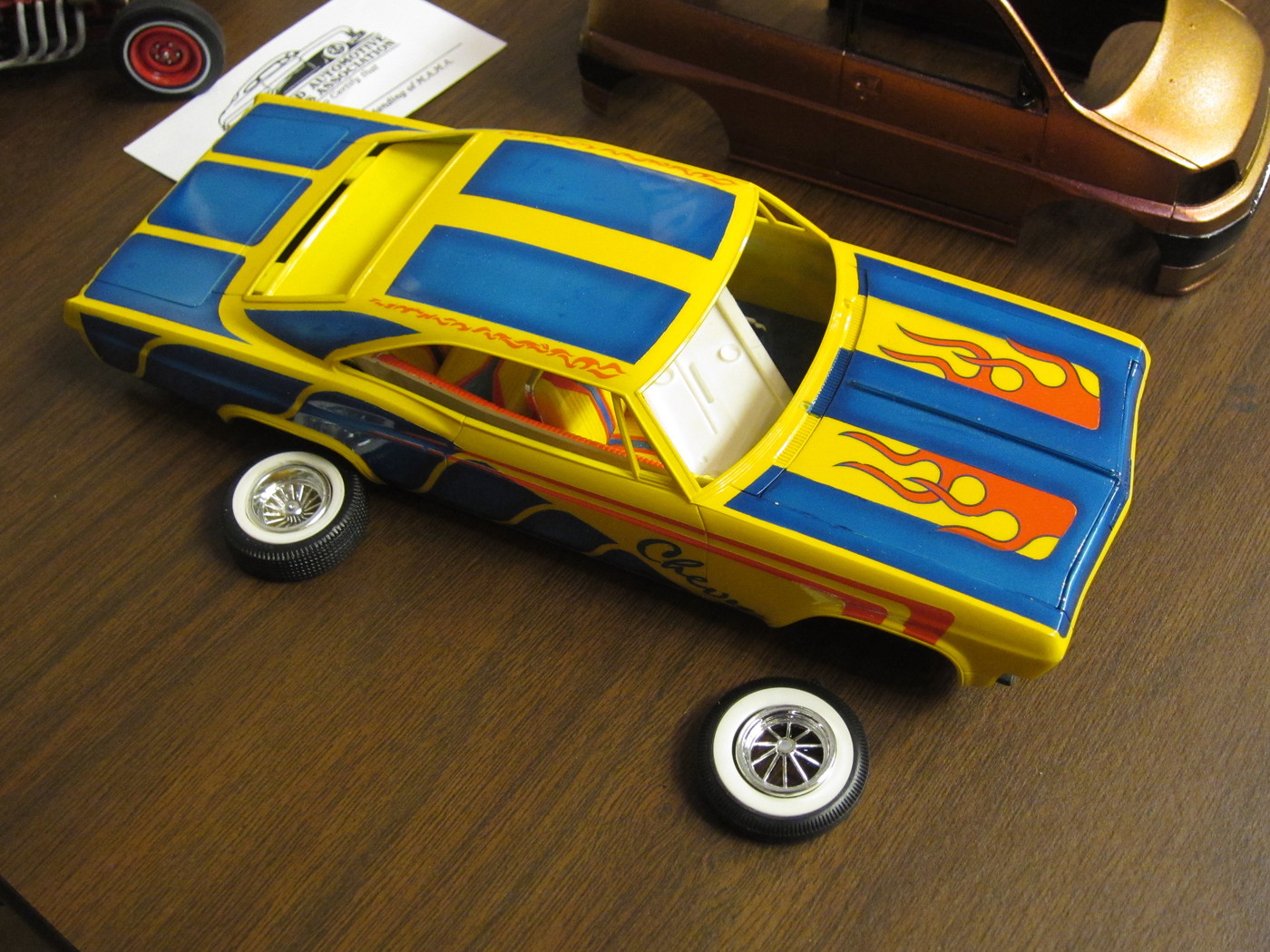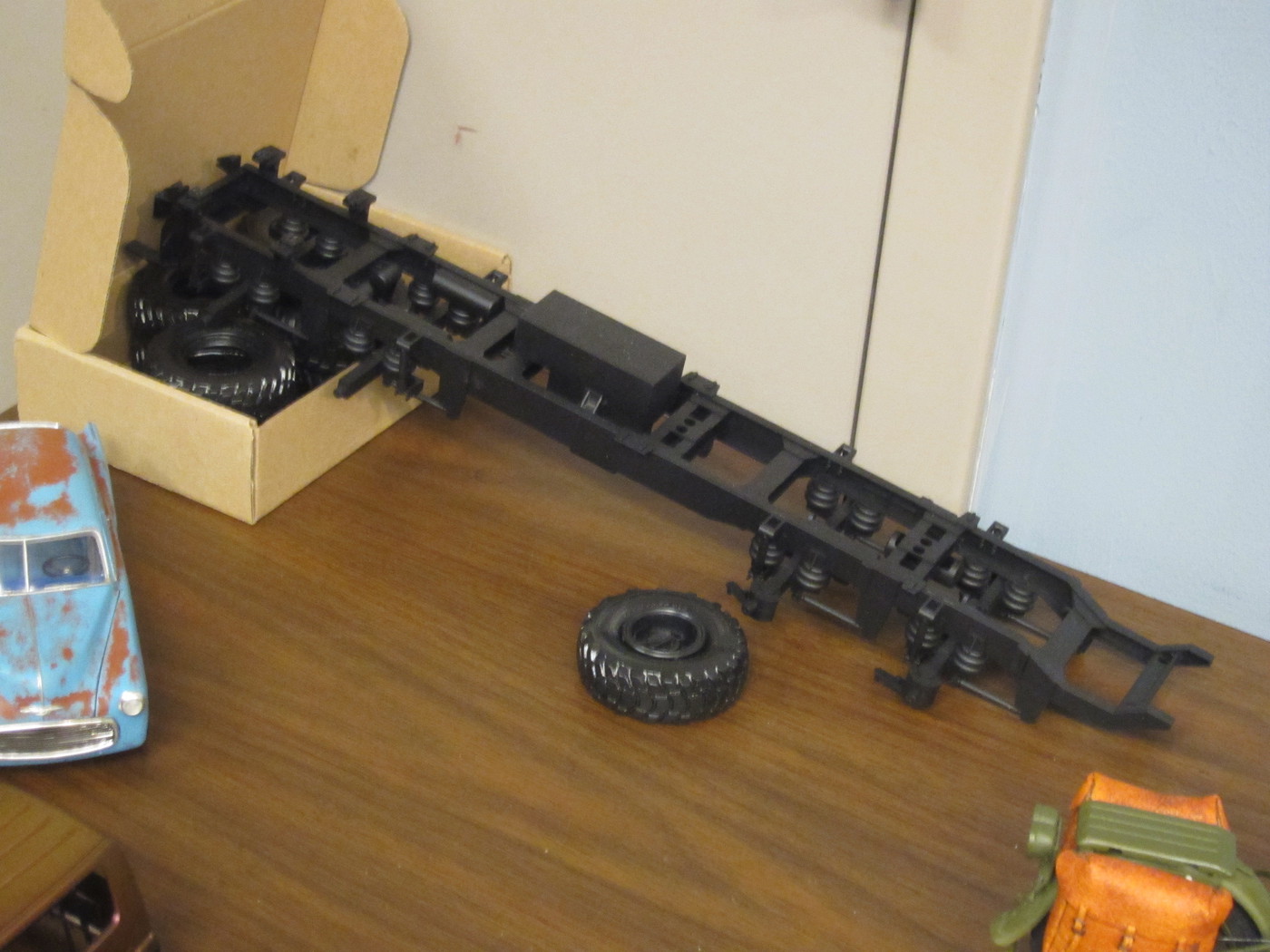 Harold Bradford is starting into his latest 1/12 scale Ferrari project.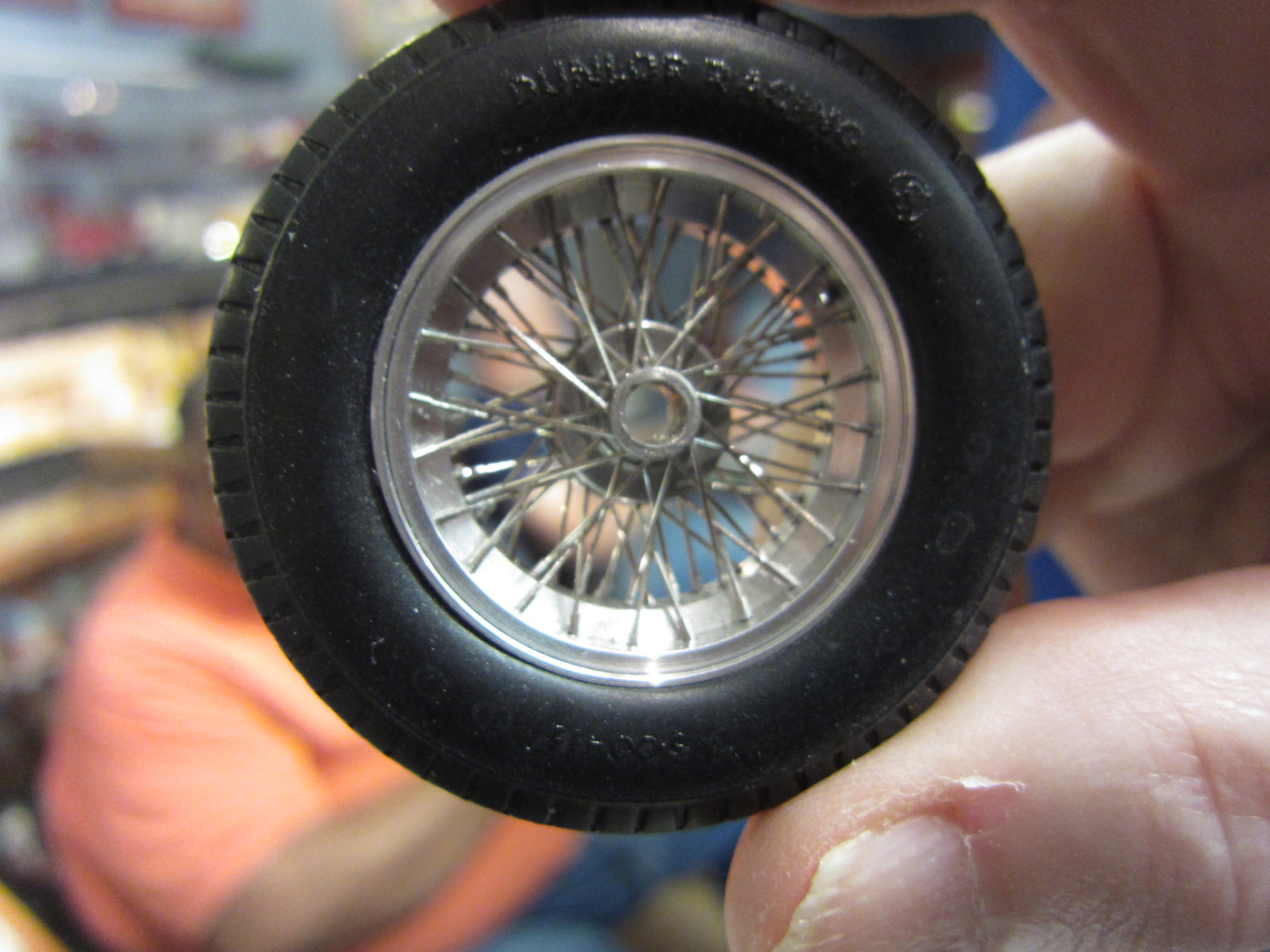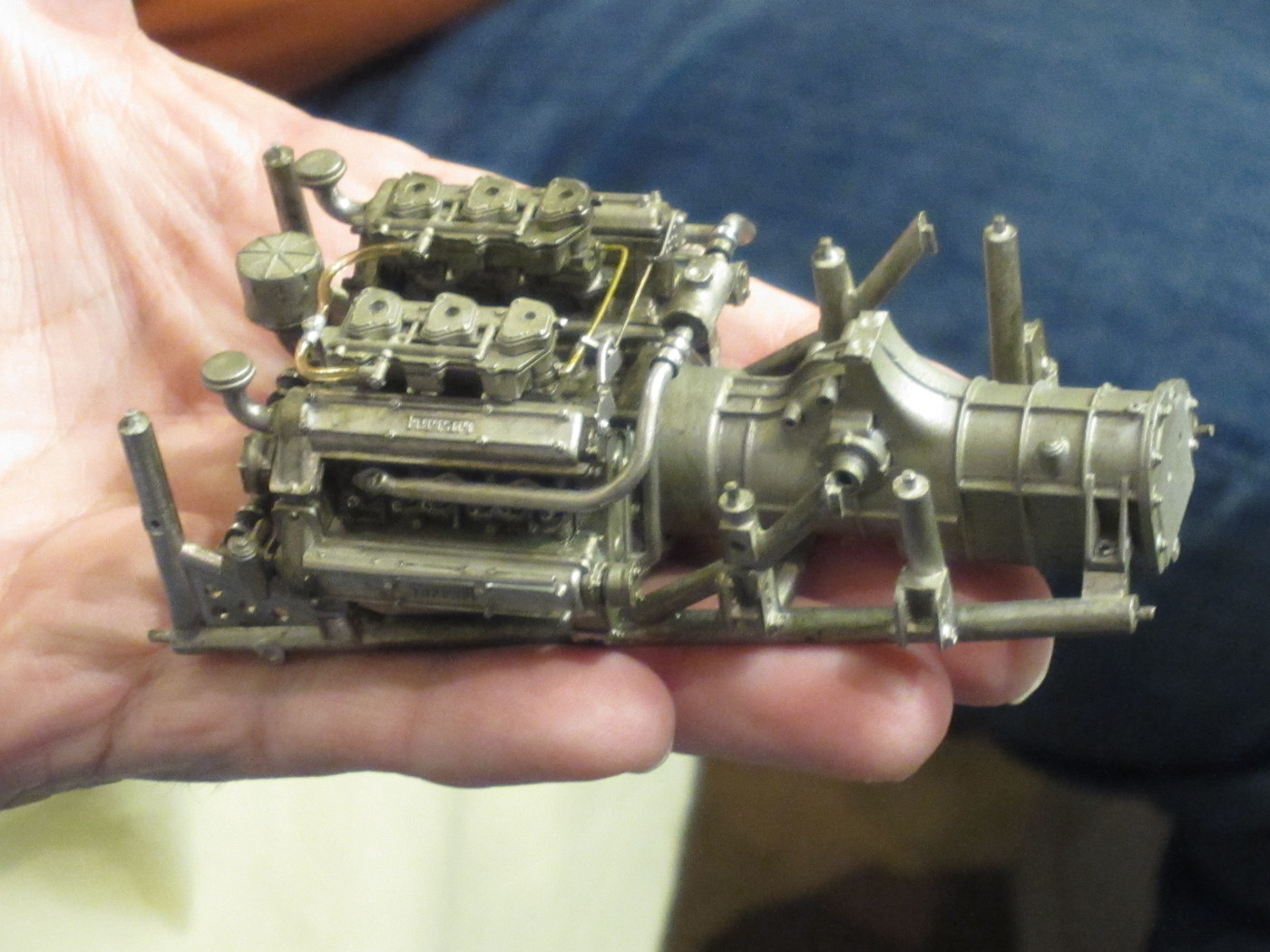 Vere Reider, Jr. displayed a large scale military Harley and a Woody-Chris Craft combo.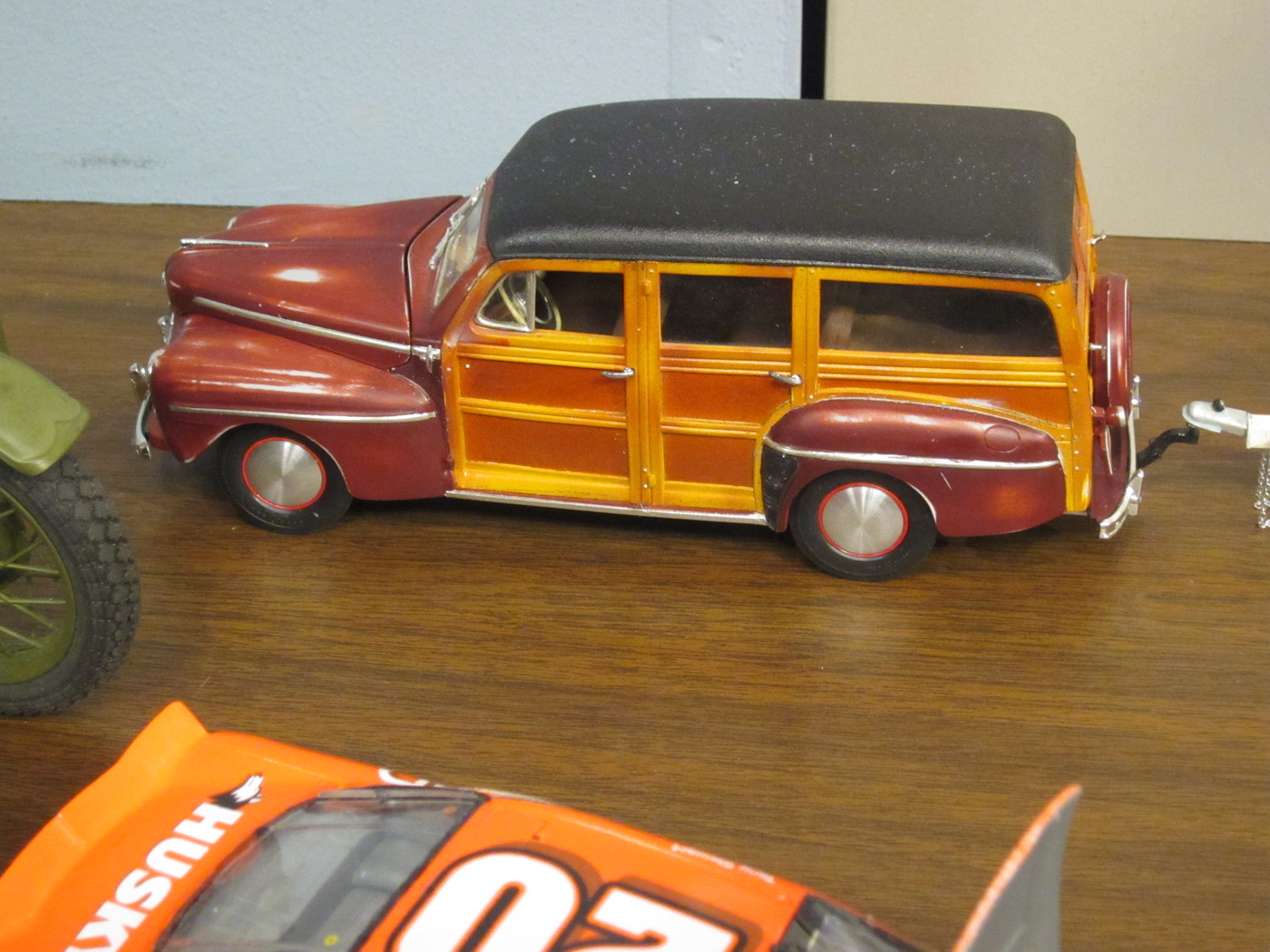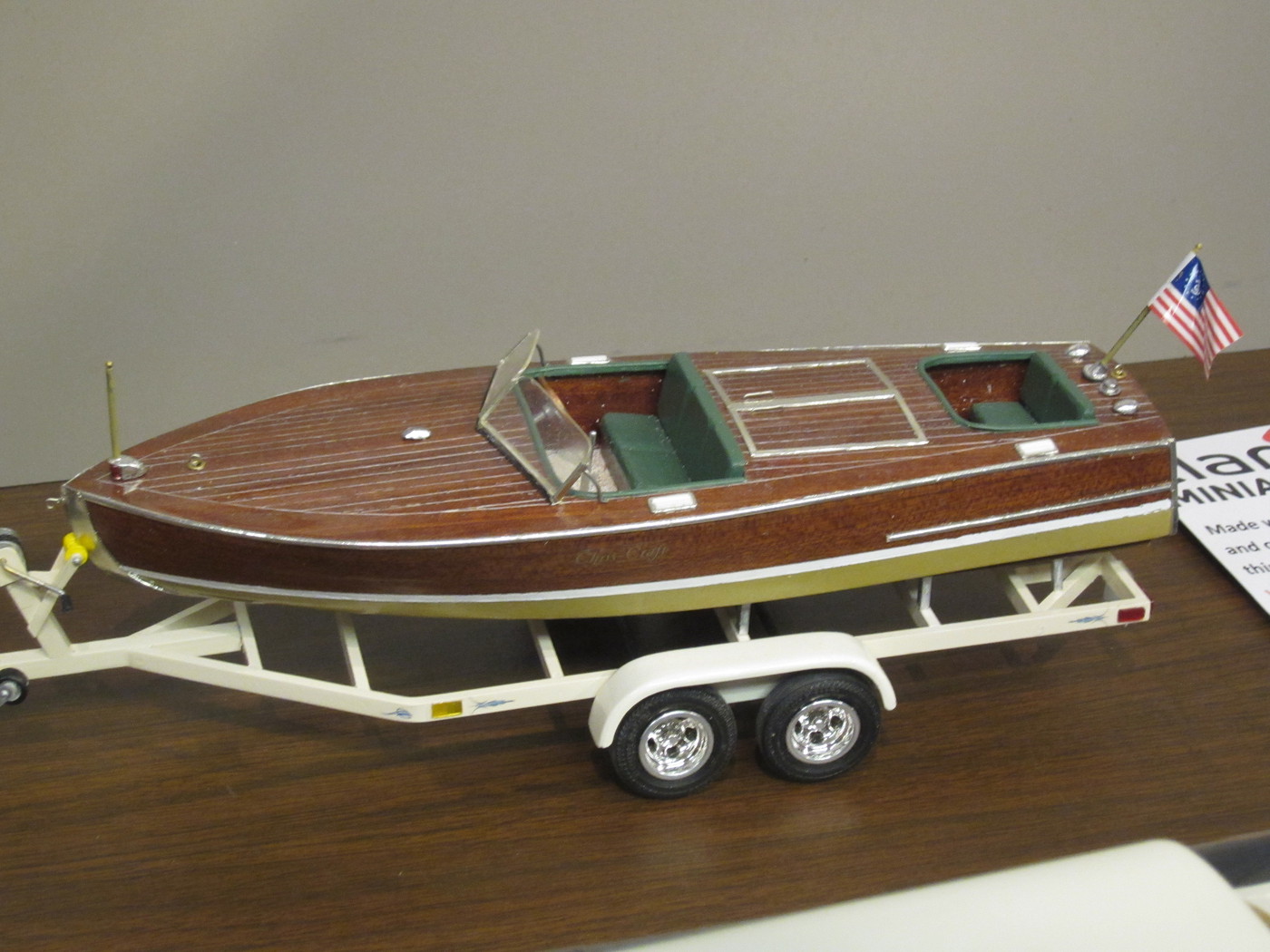 Here's a Bill Geary presented his finished1956 Ford and his ongoing 1967 Mustang coupe.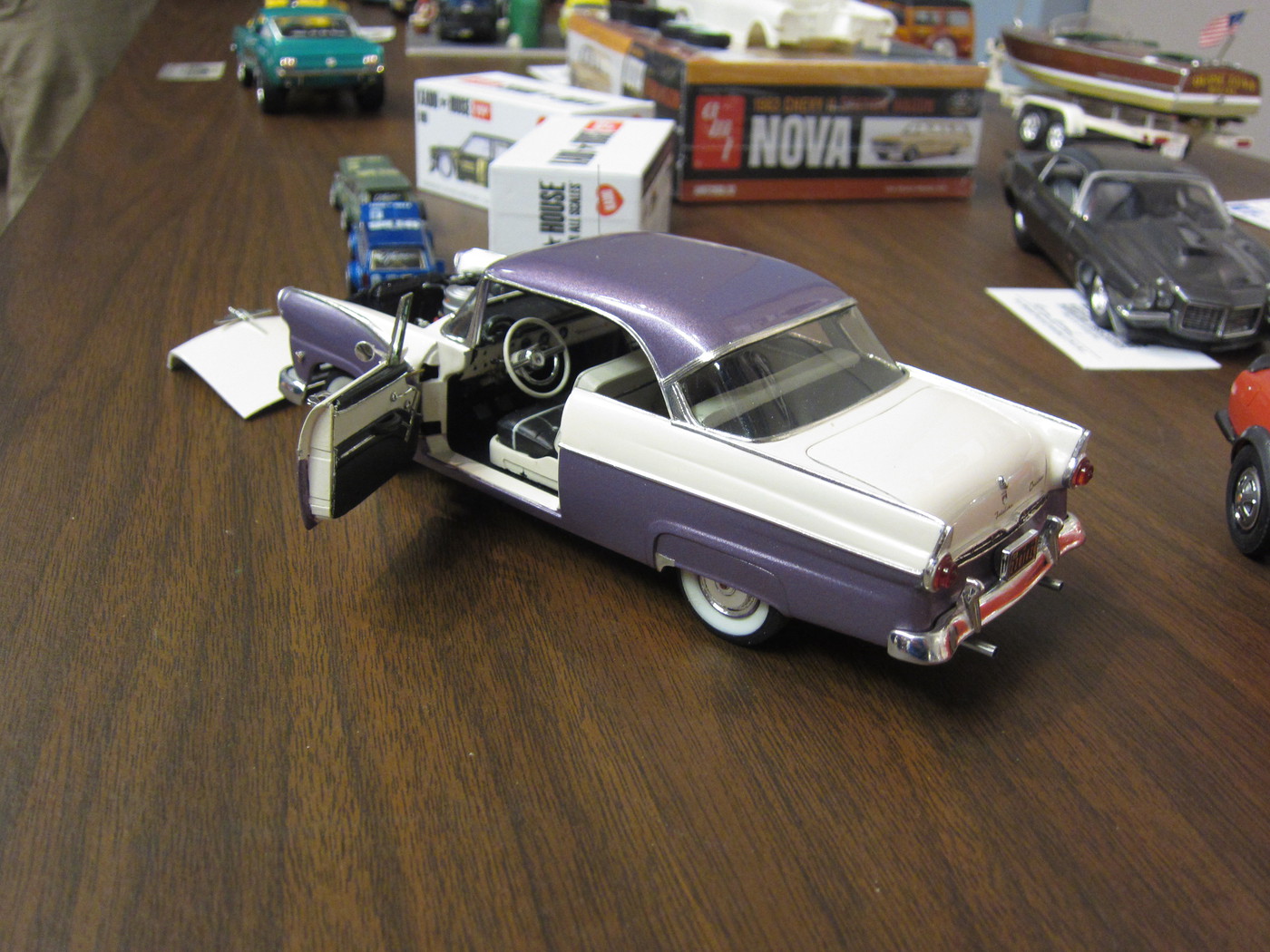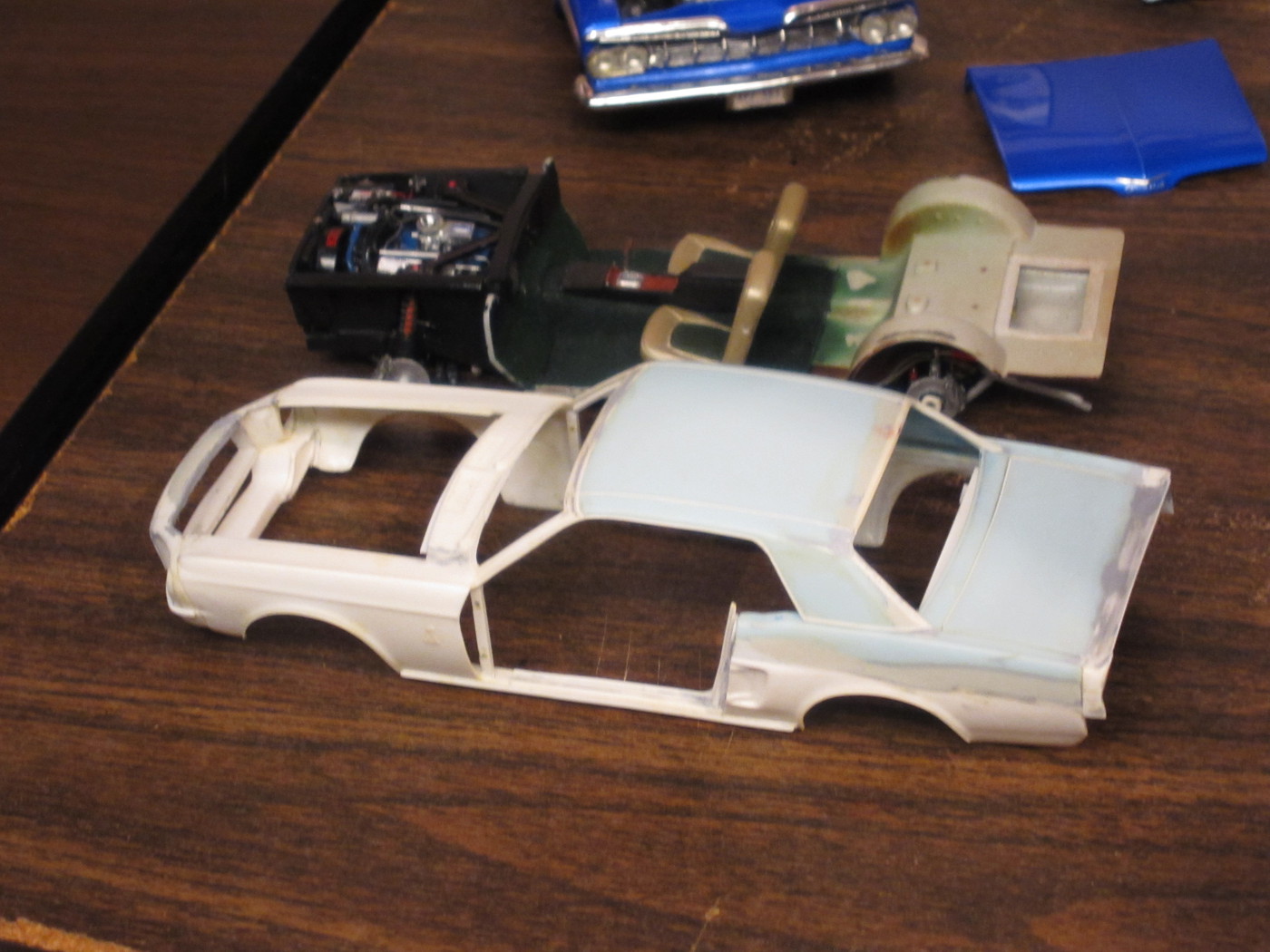 Dave Schmitt shared these Ford GT and Chevrolet Corvette race cars.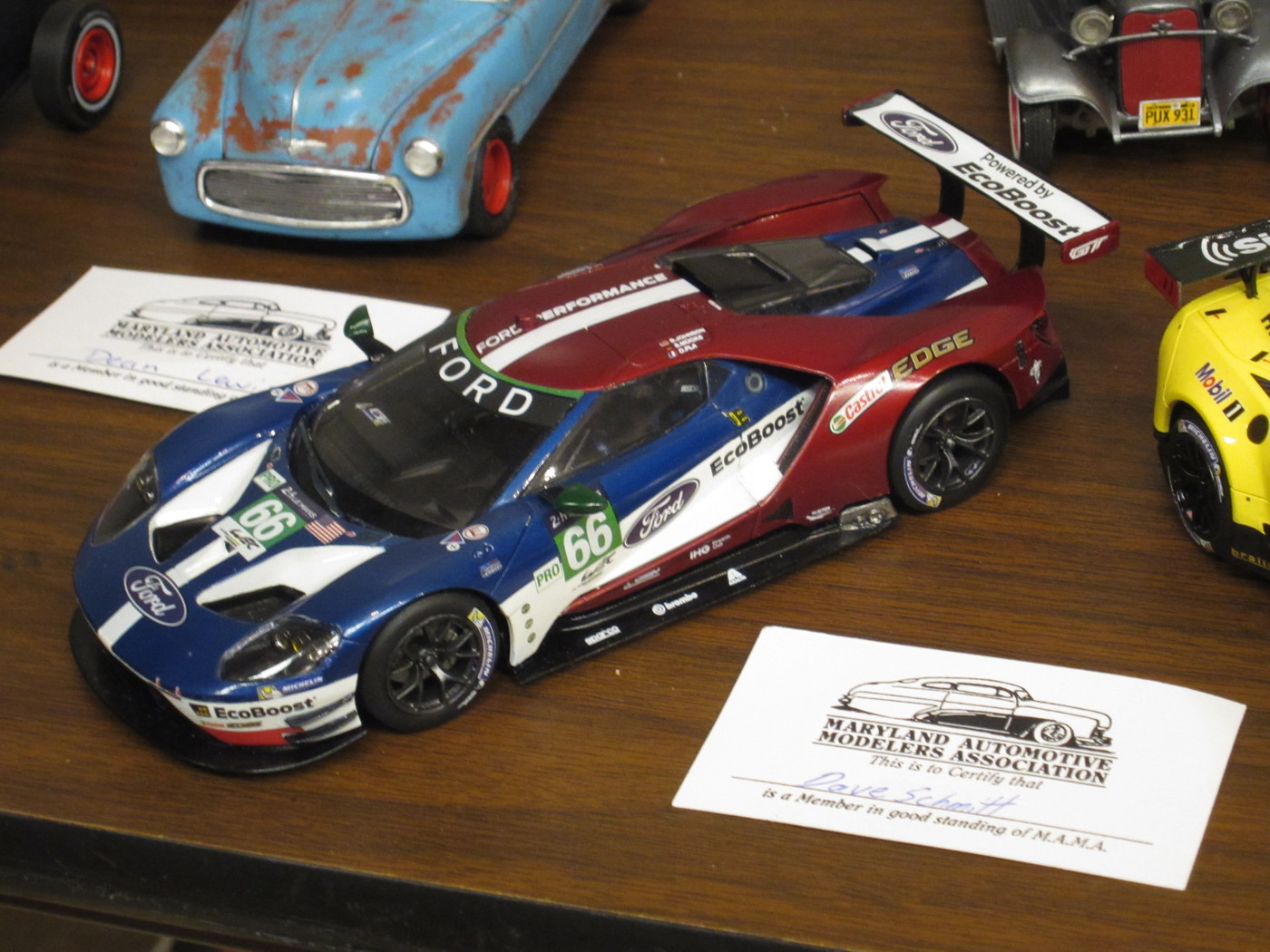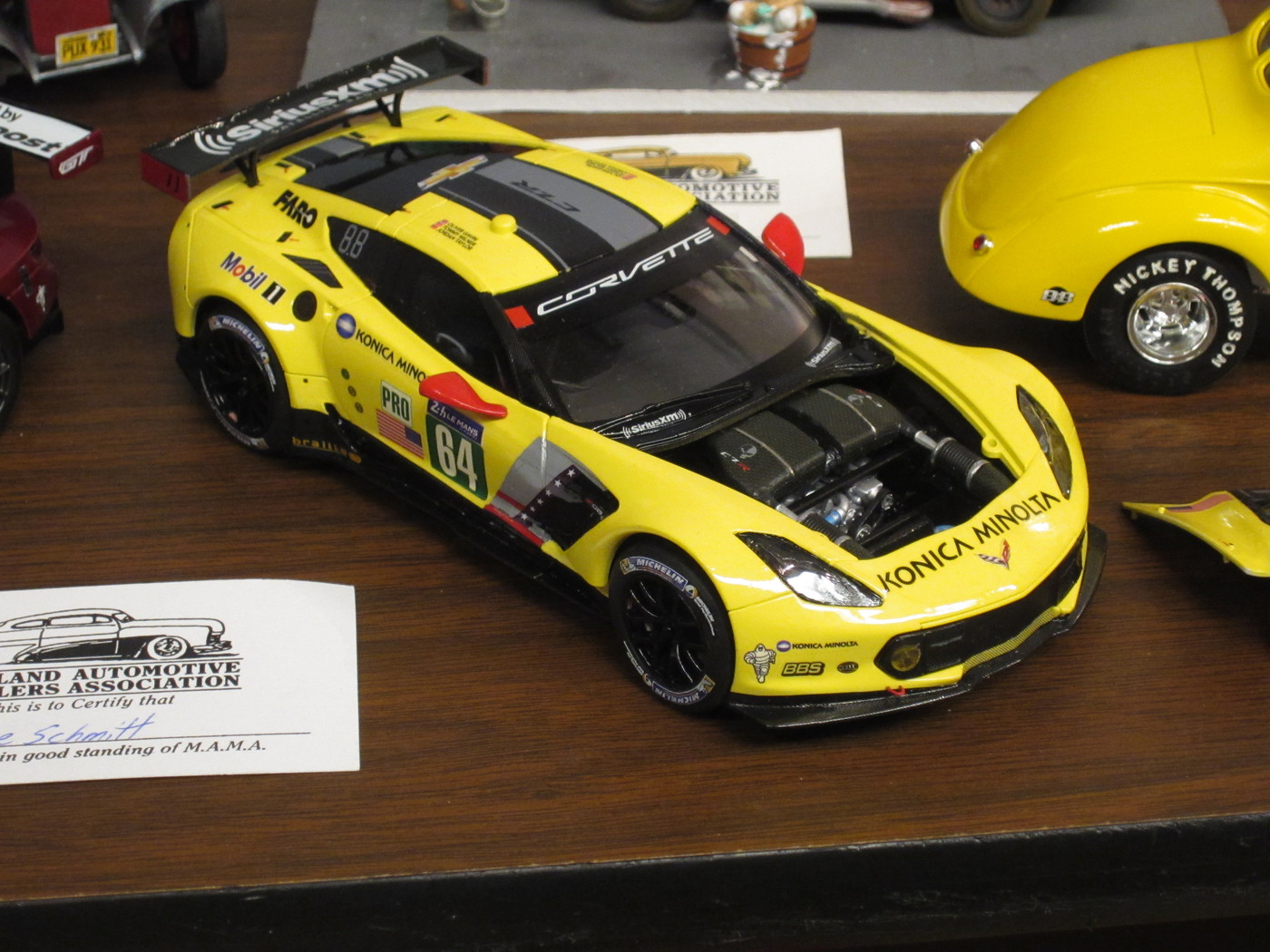 George Openhym showed his 409-powered 1959 Chevy Wagon and 1951 Fleetline.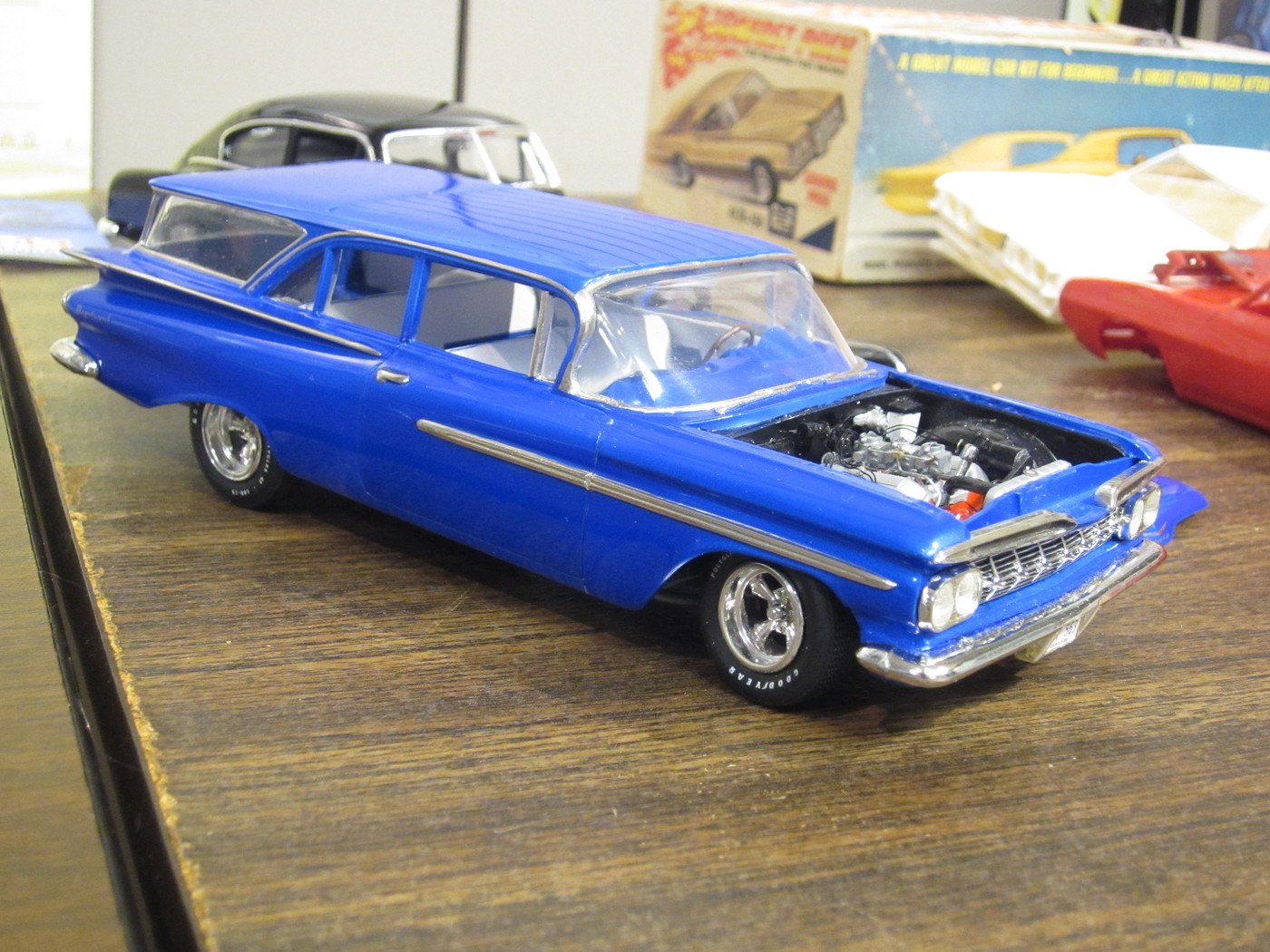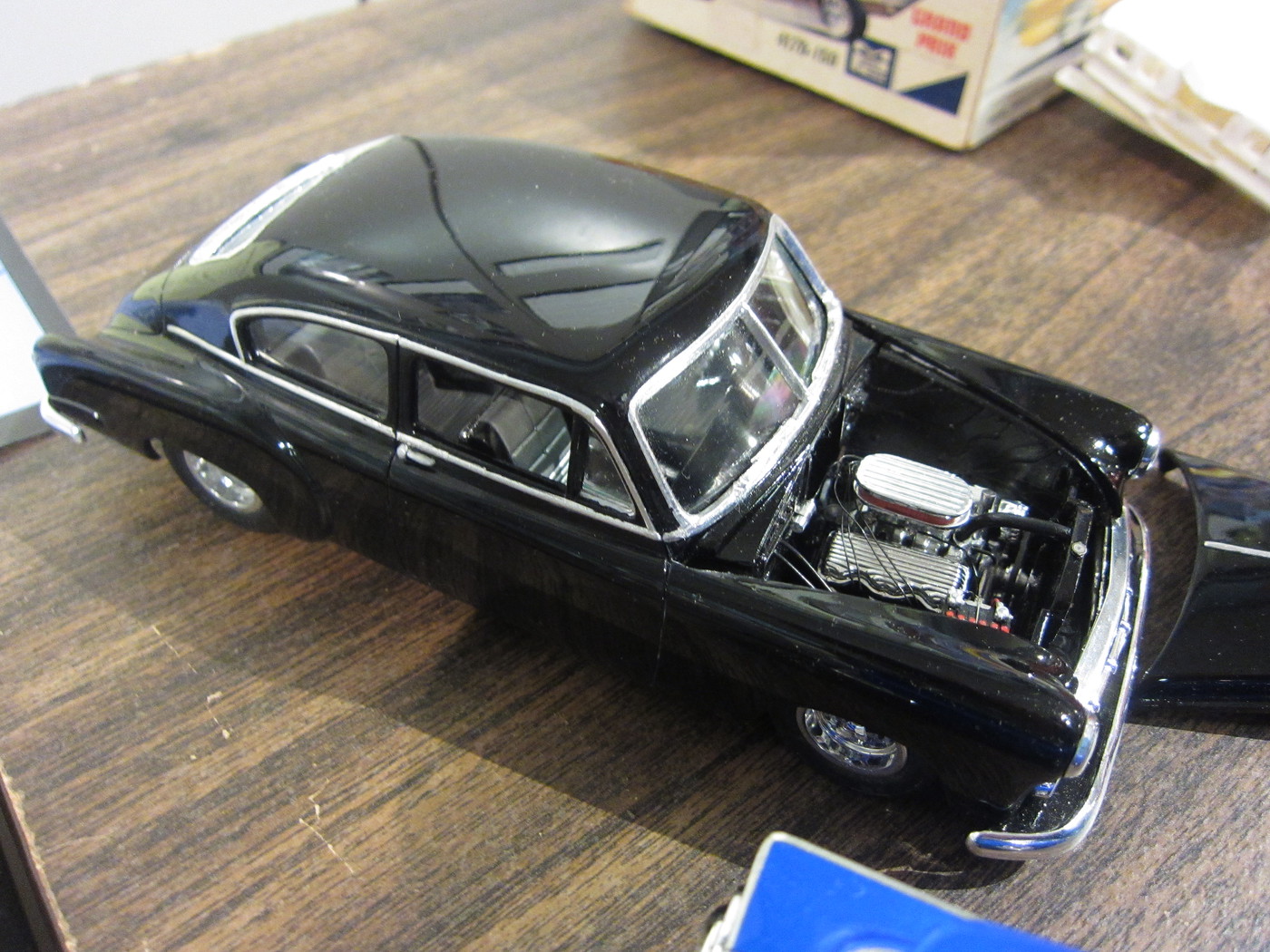 The raffle table was well stocked as usual and, yes, that bag of pretzels was a raffle prize.

Some of the action: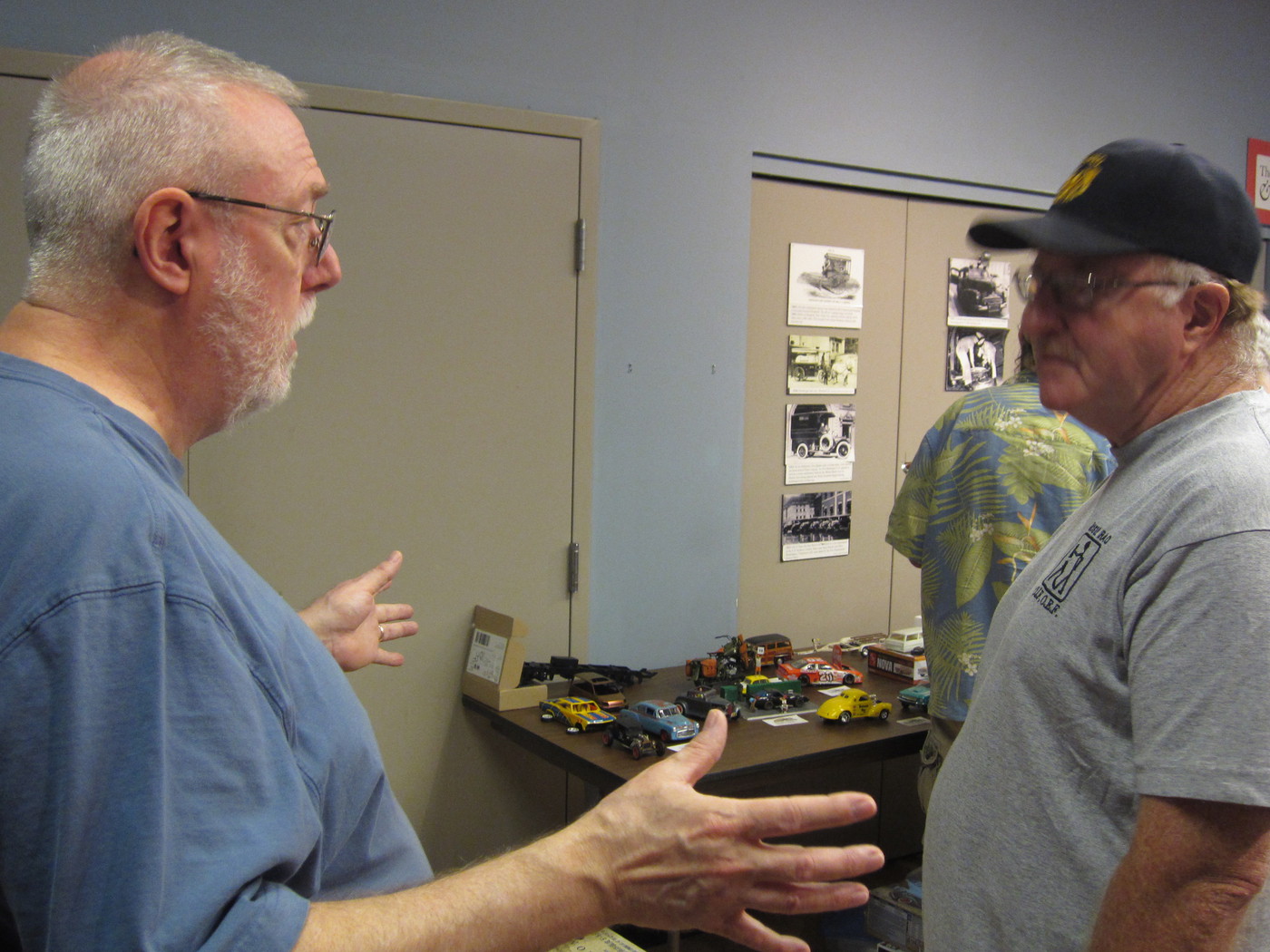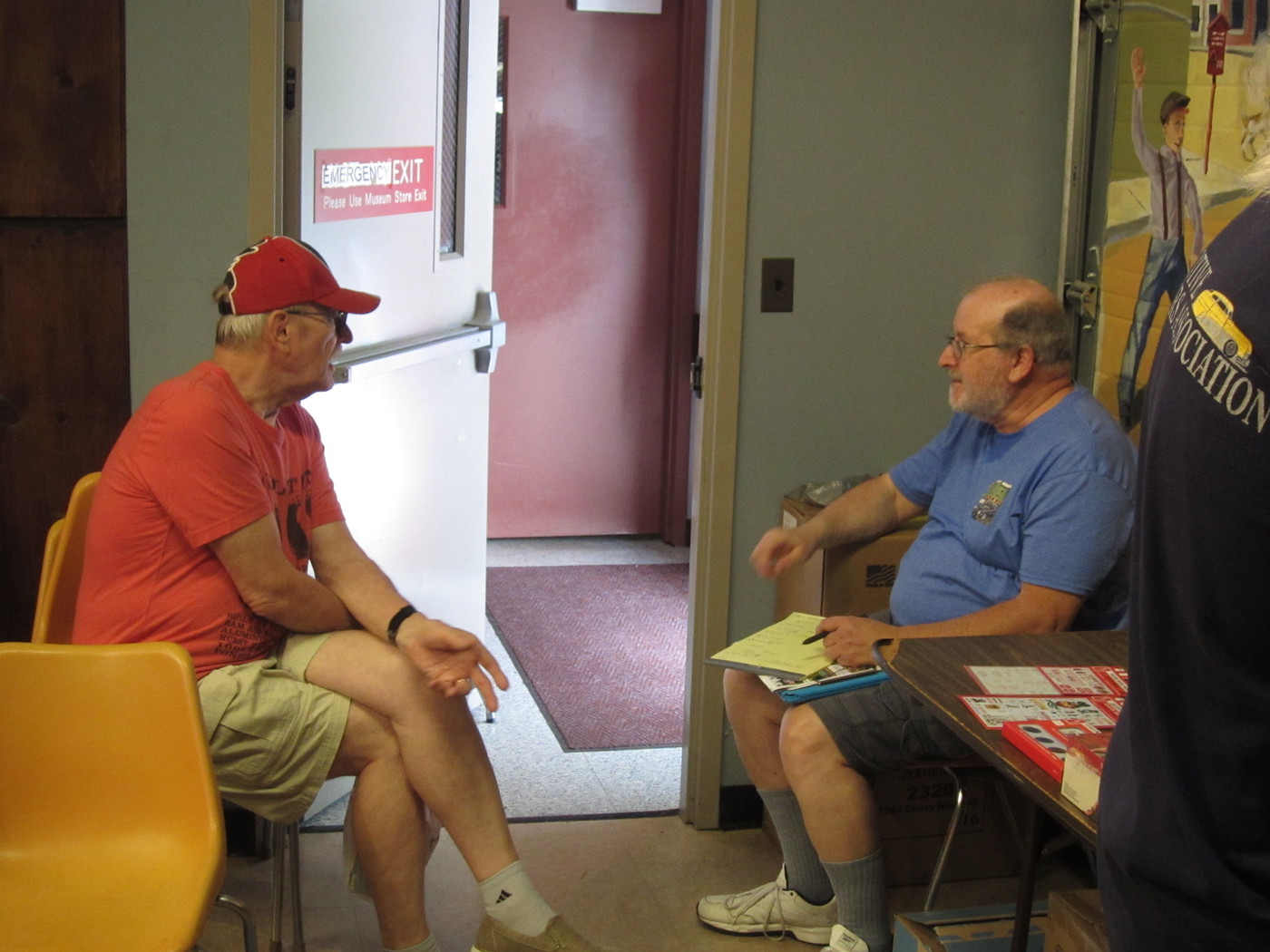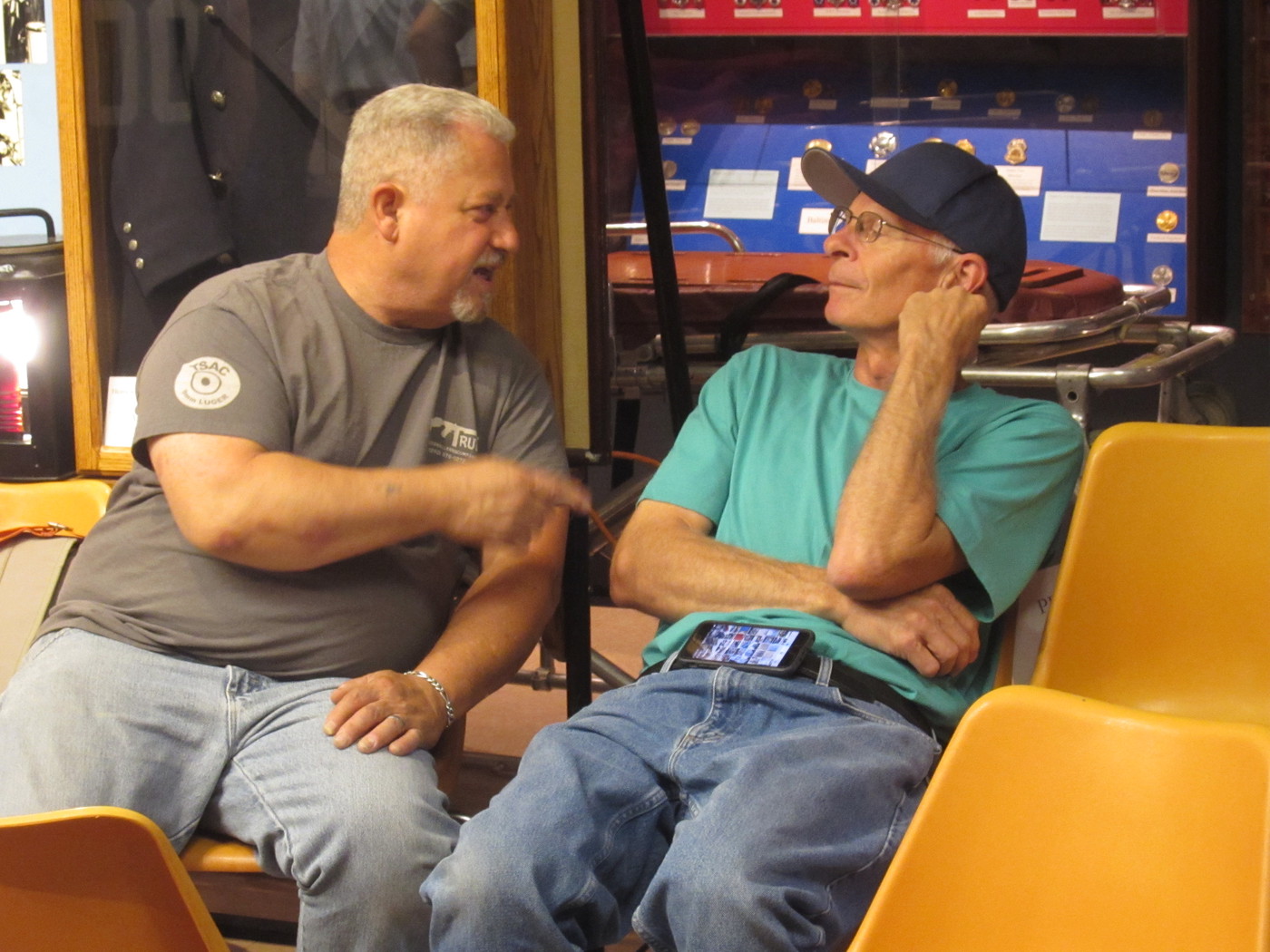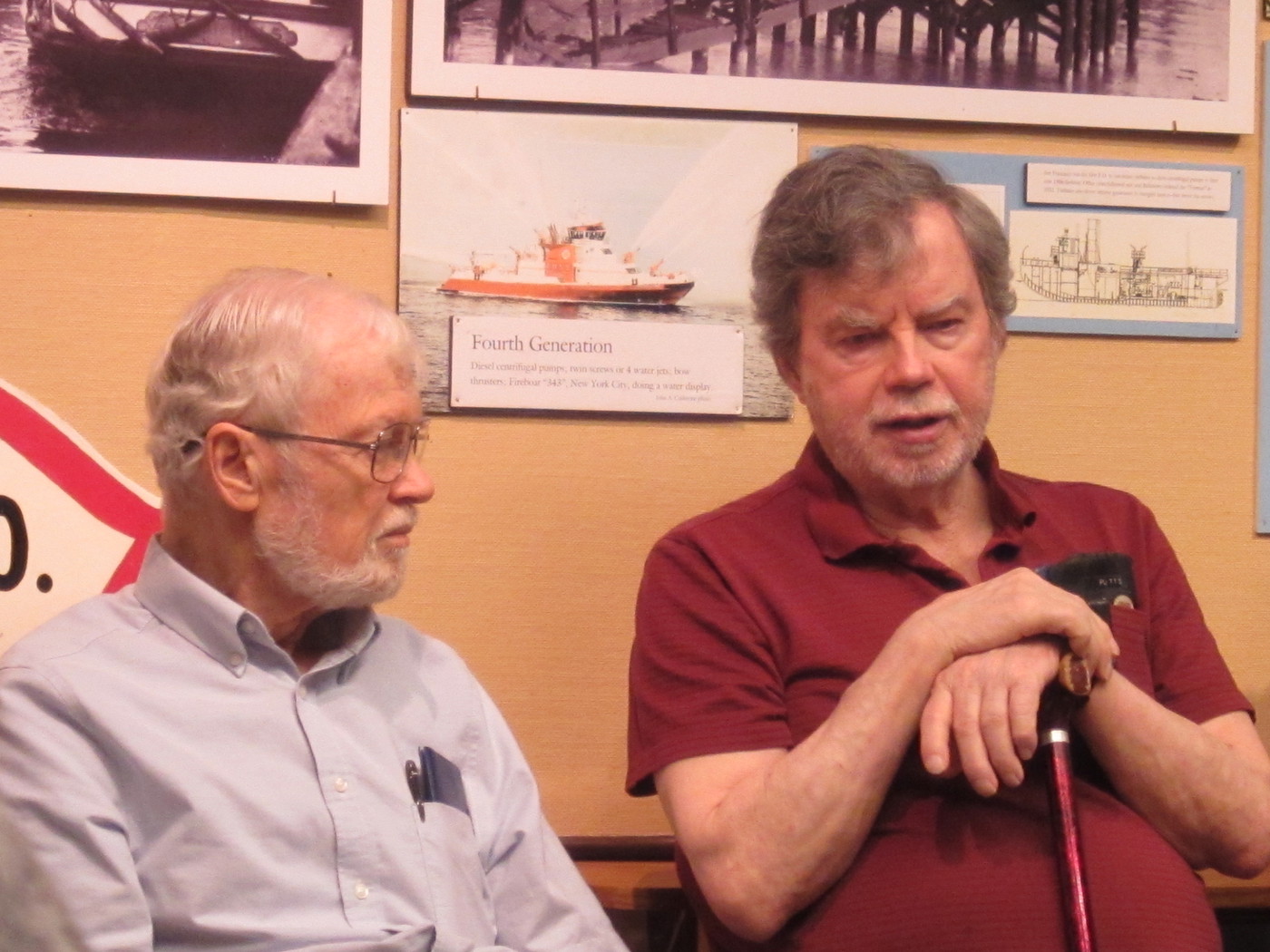 Since we can't have shared food at the Fire Museum, this month we'll enjoy some virtual mortar board and diploma cookies in honor of all this month's graduates!

You can see even more photos of this month's meeting at:
https://partsbox.fotki.com/model-car-shows/2022-06-june-mama-m/